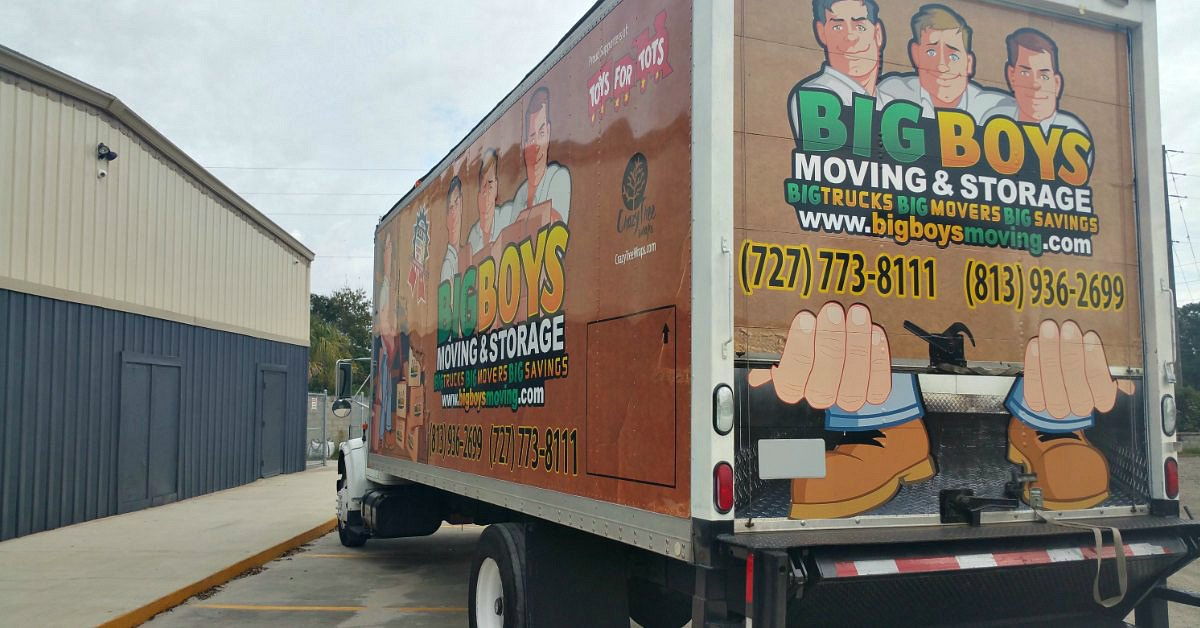 Are you a first-time mover in Tampa? If so, you're in the right place! Family-owned movers in Tampa, Big Boys Moving, has gathered 14 of the most important tips for first time movers to help you make your move as stress-free and organized as possible.
Whether you are moving locally or long-distance, these tips will give you the confidence and knowledge to successfully complete your move. Keep reading to learn the essential tips for first-time movers in Tampa.
Movers in Tampa Share Moving Tips for First Time Movers

1. Start planning early
As Tampa movers, Big Boys Moving knows that the key to a successful move is planning ahead. It can take weeks to coordinate all of the details and tasks that go into making a move a success. Start as early as possible so you don't feel rushed or overwhelmed.
Allow plenty of time to declutter, get rid of what you don't need, sort items by room, pack and label boxes, and arrange for the movers. Start planning early to avoid feeling stressed out and to make sure everything is taken care of before moving day arrives.
2. Get rid of what you don't need
Moving can be a stressful time, and it's important to start organizing and planning ahead as early as possible. One of the most crucial steps of preparing for a move is getting rid of any items that you don't need. Not only will this make packing easier, but it will also save you time, money, and energy.
When you reduce the amount of items you have to pack and transport, the entire process will go more smoothly. Movers in Tampa, Big Boys Moving & Storage offers junk removal services to help take away any unwanted furniture or items from your home so you can focus on the important tasks during your move. This is an incredibly beneficial service that can take some of the load off your shoulders and give you peace of mind.
3. Pack an essentials bag
Tampa movers know how important it is to be prepared for the transition from one home to another, and packing an essentials bag is a crucial step in that process. This bag should include all the items you will need for the first few days in your new home – such as toiletries, clothes, snacks, a change of bedding, and important documents. Having these items ready to go will make life much easier while you're in the middle of the moving process and will help you avoid running around trying to find what you need.
4. Label everything
One of the most important things to remember when preparing to move with Tampa movers is to label everything! Labeling can make the moving process much smoother and more efficient. Labeling helps you keep track of all your boxes, and it also helps to ensure that all of your belongings arrive at their destination safely.
Furthermore, labeling will help you quickly identify which box contains what items, so you can get unpacked more quickly and efficiently. Additionally, labeling can help you to organize the placement of your furniture in your new home.
5. Get insurance
It's always a good idea to purchase insurance before moving. When you're trusting your valuable possessions to Tampa movers, you don't want to take any chances of having them get lost or damaged in transit. Insurance will protect your belongings and give you peace of mind.
Additionally, if anything happens to your items during the move, the insurance will help cover the cost of replacing them. If you hire professional movers, make sure to ask about their insurance policies to make sure you're getting the right coverage for your items.
6. Hire professional movers
Hiring professional movers can be one of the most important decisions you make when moving. Professional movers can make your move less stressful, and ensure that your belongings are transported safely. When you hire a professional moving company, you can relax knowing that all of your items will be packed and moved with care.
Tampa movers have experience dealing with the unique needs of Tampa Bay area moves. From busy urban areas to secluded beachfront properties, Tampa movers know how to navigate the area. They are also familiar with local regulations and laws regarding moving and transport, so you don't have to worry about any complications.
When you hire professional movers in Tampa, they take care of the packing and loading. This can save you time and energy, allowing you to focus on other aspects of your move. Professional movers also offer insurance coverage in case something happens to your possessions during the move. This peace of mind can be invaluable for first-time movers.
By taking advantage of the expertise offered by professional Tampa movers, you can make sure that your move is as stress-free as possible. Whether you're moving across town or across the country, Tampa movers can help make sure everything goes smoothly.

7. Pack a first night kit
When moving to a new home, it's smart to pack a first-night kit. This kit will contain items that you'll need for your first night in the new home. Movers in Tampa that were voted Best of the Best 2022 recommend that you should include toiletries, such as toothbrush and toothpaste, a change of clothes, bedding, non-perishable snacks, and any medications you may need. Also, don't forget to include your phone chargers and other electronic devices that you need. Having a first night kit will make it easier to transition into your new home and make sure that you have the essentials you need right away.
8. Disconnect and reconnect utilities
It's important to remember to schedule service disconnect and reconnect dates for your utilities. This includes electricity, water, gas, phone, cable, and internet services. Ensure you contact your service providers at least two weeks in advance to confirm the dates. Make sure to provide them with your new address to ensure the transfer is as seamless as possible. Additionally, don't forget to transfer any security deposits associated with your old address.
9. Forward your mail
Don't forget one of the most important parts of your move – forwarding your mail! As Tampa movers, Big Boys Moving understands how important it is for you to stay on top of your mail during this transition. To make sure you get all of your mail, be sure to forward it from your old address to the new one. You can set up mail forwarding through the United States Postal Service (USPS) website or by visiting your local post office. Once your mail has been forwarded, you can begin to settle into your new home.
10. Arrange for pet care
Moving can be stressful for your pet, so it's important to take the time to plan ahead for their care during your move. Trusted movers in Tampa suggest that you consider making plans with a family member or friend who can look after your pet if needed, especially if your new home isn't yet ready. If you are moving to a new state, you may also need to look into any necessary shots and licensing requirements. Taking your pet to the vet before you move is also a good idea, to make sure they are healthy and up-to-date on their vaccinations.
11. Clean before you go
It may be tempting to leave the cleaning to your Tampa movers, but if you want to ensure that your old place is left in top condition, you should make sure to clean it before leaving. Start by taking out all of the trash and recycling. Sweep, vacuum, and mop the floors. Then, wipe down all the surfaces with an all-purpose cleaner or multi-surface cleaner. Take care of any lingering dust or dirt. Finally, make sure to check for any damage or other messes you may have left behind. By thoroughly cleaning your old home, you can ensure that your movers will be able to focus on their job without worrying about picking up after you.
12. Do a final walkthrough
Before you say goodbye to your old home, it's important to do a final walkthrough. Make sure nothing is left behind. Take pictures of each room, and inspect closets and drawers. If possible, get a receipt from the landlord stating that the house was clean and no damage was done. And don't forget to take all keys, including garage door openers, with you.
13. Take your time unpacking
When you move to a new home, it can be tempting to unpack as quickly as possible. However, it is important to take your time when unpacking. This will help ensure that you don't overlook anything important. Suggested movers in Tampa recommend breaking down the process by room. Take one room at a time and start with the essentials such as beds and furniture. Then, move on to the less important items like decorations and artwork. Once you have all of your items unpacked, don't forget to clean up any mess created by packing materials or boxes. Taking your time when unpacking also helps you become familiar with your new home and find where things are located. This can help save time in the future when you are looking for something. If you need additional help unpacking, Big Boys Moving & Storage offers full-service unpacking services to make sure all of your belongings get put away in the right place.
14. Get to know your new neighborhood
Once you've moved into your new home, it's important to get to know the area. You can explore nearby restaurants, parks, stores and more to start feeling like part of the neighborhood. Reliable movers in Tampa, Florida suggest visiting local events to meet your neighbors and establish relationships.
In addition, take time to visit the nearby public services such as police and fire departments, as well as libraries, hospitals and schools. If there are any local business associations in your area, take the time to get involved and learn more about what they offer.
Finally, don't forget to check out the local attractions and activities that your new area offers. Make sure you check out all the local shopping, recreation and entertainment venues to get a better understanding of the culture and vibe of your new city. This can help you feel more settled into your new home quickly.
Conclusion
Moving can be a stressful time, especially for first-time movers. With the right preparation, however, it doesn't have to be. By following the 14 tips outlined in this article, you can make sure that your move is smooth and stress-free. For further assistance with your move, Tampa movers Big Boys Moving & Storage are here to help. Big Boys Moving & Storage is family owned and operated, a 2022 Best of the Best Winner, and has over 18 years of experience. From packing and unpacking, to labor only, local moves, corporate moves, junk hauling, pre and post move storage and more – we've got you covered. Call us today at 813-936-2699 to learn more.