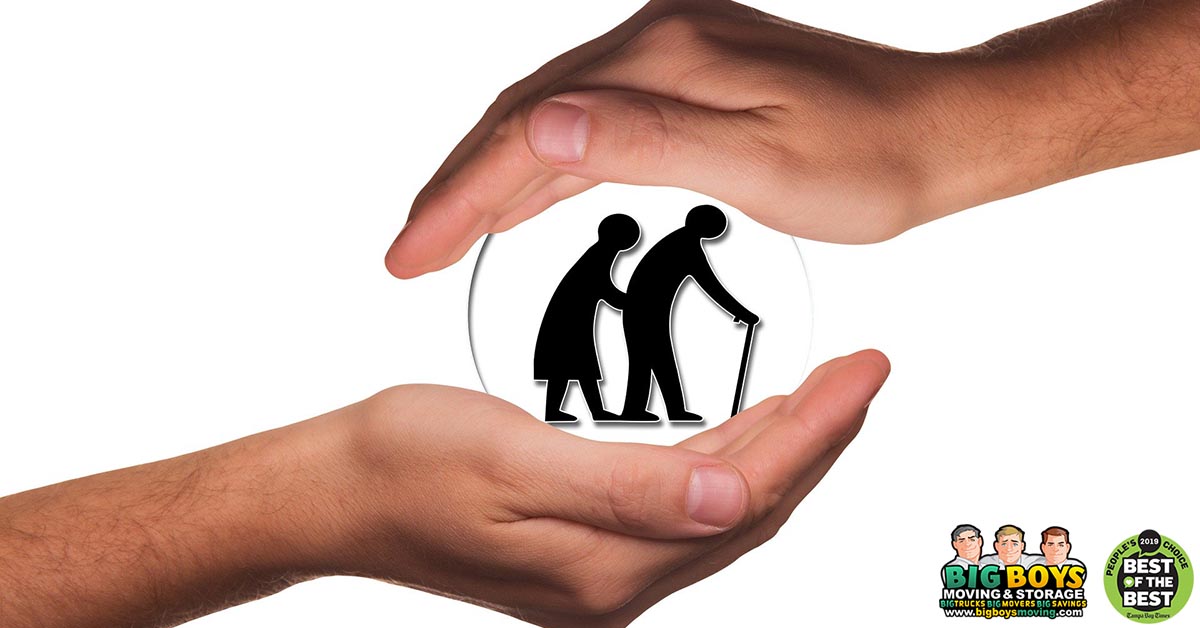 Choose the best assisted living movers for that upcoming move and you can make the entire day a much easier transition. Unfortunately, if you choose the first moving company that you come across, you may actually make the day much more stressful.
Here at Big Boys Moving and Storage, we have quite a bit of experience helping families as they make this difficult transition. Today we want to share with you a few ways that our expert moving crew can help you during this time.
Assisted Living Movers: How We Can Help During a Difficult Time
A Friendly Moving Team
One of the most important things when it comes to assisted living moving is that you have a friendly moving team on hand to get the job done. Whether you are making the transition into an assisted living facility yourself or whether you are helping a loved one to make that transition themselves, this is a very emotional and potentially difficult time. The last thing you need to deal with during this time is aggressive, pushy, or cold and uncaring movers.
At Big Boys Moving and Storage, when we bring new movers onto our team, we don't just do a full background check and ensure that they are well trained, but we also make sure that all members of our moving team represent our friendly family approach to business.
An Understanding of the Importance of Family
Speaking of family, at Big Boys Moving and Storage, we are a family-oriented business. We understand how important it is to provide your loved ones with the best caliber of service and while we are your moving company, your family is our family. We will always treat your property with the utmost of care, provide service with a smile, and make sure that you receive the same level of respect and attention that we offer our own family members.
We Understand the Situation
Having completed a number of assisted living moves in the past, we understand the delicate nature of this type of move and we are familiar with the correct protocols of assisted living facilities when it comes to move-in day. Our moving team is always respectful of housing rules and we always take the safety and comfort of other residents into consideration when taking care of your move.
Why Should You Use Assisted Living Movers?
You may be asking why you should consider using assisted living movers to help with your upcoming move. After all, it's a big day, isn't it better that you spend as much time as possible with your loved ones even if that's while you're hauling boxes? No! We agree that this is a day for spending time with your loved ones, but we don't think that you should have to be spending that time distracted from what really matters. Hiring a reputable moving company like Big Boys Moving and Storage will not only give you the peace of mind that those boxes are being treated with care, they will also allow you to spend quality time with your loved one during a possibly trying time.
Having an understanding moving company to work with when making assisted living moves is also exceptionally helpful when the person you are moving has a sensory disorder. While your movers take care of the hauling, you can spend time comforting your loved one and helping them to feel comfortable with the new situation and the new surroundings.
What If An Assisted Living Facility Has Special Rules?
When moving a loved one into an assisted living unit, some family members are hesitant to turn to a moving company for help because there are "special rules" that pertain to moving into and out of the unit. In this type of situation, you want to contact the unit that your loved one will be moving to and request permission to use a professional moving team. Once you have their consent, the rest is up to us.
We acknowledge that your trusting us and the facility trusting us is a pretty big deal, and we want you to know that you can rely on us to represent you well.
What Can We Move Into Your Loved One's Assisted Living Facility?
At Big Boys Moving and Storage, we have the ability to move everything from a bed to a full computer lab to a gym. This means that whatever it is that you need moving, we can help you to move it. With that said, what you will need moved into your loved one's facility is going to depend on the type of facility and living arrangements as well as specific rules that they have in place. It's up to you to find out what those rules are and to use them to determine what you will need moved to the facility. Once you know what you need to be moved, just let us know what we need to transport and we'll get right on it!
Are You Looking For Assisted Living Movers?
If you're looking for assisted living movers who can help you or your loved one to make the transition to an assisted living facility, Big Boys Moving and Storage can help! Just pick up the phone and give us a call today at 813-936-2699 and let us know what we can do for you!