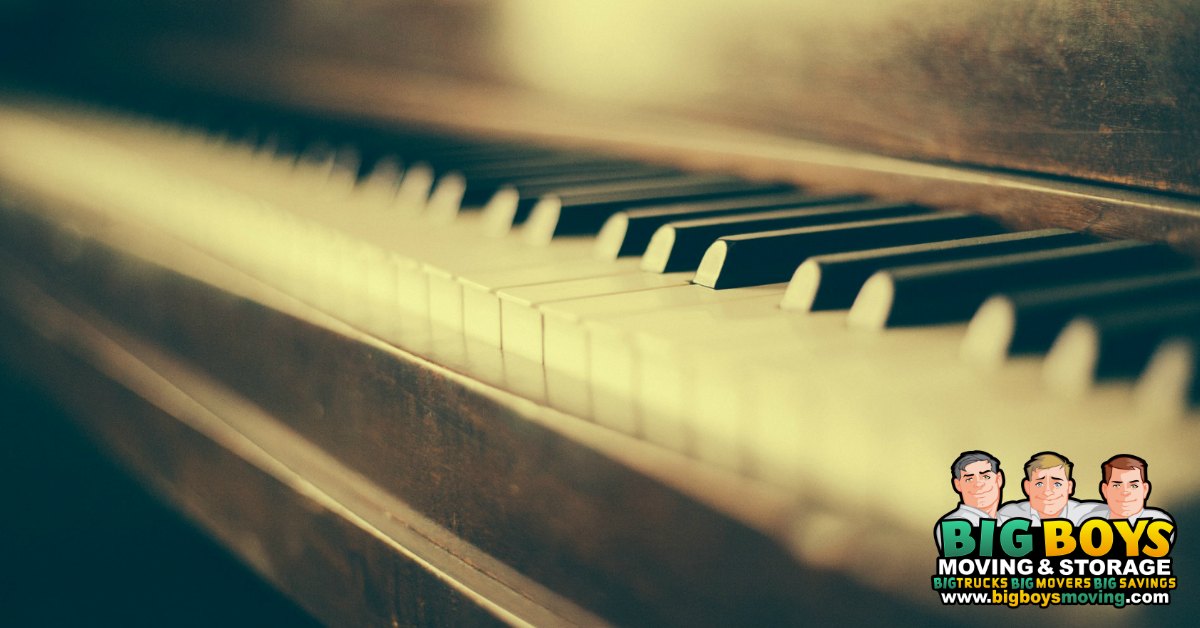 Big piano movers in Tampa Florida can take the hassle out of moving your big piano from your old home to your new one by doing all of the heavy lifting for you! Did you know that some people sell their beloved big pianos because they're moving homes and just can't imagine having to move their piano as well? Here at Big Boys Moving and Storage Tampa moving company, we hate to hear of people letting go of their pianos because they don't know how to get it moved when we're just around the corner!
Big Piano Movers in Tampa Florida Do the Hard Jobs For You!
If you are thinking about moving from your old home to a newer home in Tampa but you're just not sure how you're going to get that grand piano over to your new place, don't panic. As a moving company Tampa trusts, Big Boys Moving has the tools necessary to get that grand piano from one home to another.
We know that investing in a big piano is an investment that no one takes lightly. Not only is a big piano like a grand piano going to take up a large amount of space in your home, but it's also a huge financial investment too. So, if you put so much thought into buying your piano why should you have to give it up when you decide to move simply because you can't figure out how to move your piano yourself? Well, we don't think you should have to and that's why we are the big piano movers in Tampa.
Whether a moving company has already told you that they can't or won't move your piano for you or whether you have decided to move homes without the assistance of a moving company and just can't move your piano yourself, Tampa moving company, Big Boys Moving can help.
Firstly, when a Tampa moving company tells you that they can't or won't move your big piano for you, what they mean is…
They don't have a truck big enough to accommodate your big piano
They don't want to deal with the "hassle" of moving your piano for you
They know that they're going to damage your piano during your move and won't take on that "risk"
Essentially, when a moving company Tampa residents call on for piano moving says no, they're telling you that their company is inferior or that they expect their movers to perform poorly and damage your possessions. Here at Big Boys Moving, we think that this is unacceptable. We believe that as a moving company it's our responsibility to have the right equipment needed to safely move your property. We also believe that if we have to refuse a job because we think our movers are going to damage your property…well, we shouldn't be moving your property! If a moving company can't trust their own employees, why should you trust them? That's why every one of our moving staff are expertly trained in proper moving techniques and we always have the equipment necessary to get the job done.
Secondly, we know that when it comes to moving, a lot of people try to save money by doing the move themselves and avoiding hiring a Tampa moving company. Big Boys Moving company knows that sometimes the budget can be tight, especially just after you've invested in a new home! That's why we offer a full range of moving options for you so that no matter what your budget is, we can help. Often our clients will call us in just to move a piano to make the job easier for themselves and to save on the cost of hiring a mover for a full move. We don't mind being that company that comes to your aid for a small part of your move! But we should tell you that here at Big Boys, we always do our best to provide our services at a price that is affordable. We do this by keeping our rates low and by offering unique moving packages and specials that are designed with your budget in mind. So, if you talked to another Tampa moving company and were told you couldn't afford their moving services, try giving us a call and let us know! Tell us what you need help with during your move and let us know what kind of budget you are working with and we'll find a solution that works for you. Plus, don't forget to ask about any of our current Tampa moving specials, coupons, and discounts so that you can save even more!
Why trust us with your move?
If you had another moving company in Tampa in mind for your move but were told that they couldn't (or wouldn't) move your big piano, why should you hang up on them and trust us with your move instead?
We CAN move your big and bulky items for you
We are confident in our movers' ability to move even those oversized items like grand pianos!
We provide up-front pricing on moving services that meet every budget so that you never have to consider selling your piano just because you can't afford to get it moved.
We are licensed, bonded, and insured, which means that your possessions are ALWAYS covered in the event of an accident.
We care about our Tampa Bay community. As members of the community ourselves, it's important to us that you are happy with your moving experience so we give you top quality service all the time, every time.
Big Piano Movers in Tampa Florida Can Help You Too!
If you're in need of big piano movers in Tampa, Florida to do the heavy lifting for you, Big Boys Moving and Storage are here to help! Just give us a call at 813-936-2699 to see how soon we can help you get into your new place!