We can move your...
Apartment/Home/Office
Appliances
Artwork
Collectibles
Commercial Equipment
File Cabinets
Furniture
Gym Equipment
Office Equipment
Piano
Safe
Single Items
Storage Container
and more!
Family-owned & Operated. Bonded, Licensed & Insured. BIG & Small moves. Local & Long distance. Emergency & Last-minute. Load & Unload. Pack & Unpack. Labor-only options. Between-moves Storage & more! Voted Best Tampa Mover 13-years running!
Budget Moving Company Big Boys Moving & Storage
At Big Boys Moving and Storage, our trained, professional budget movers help our residential moving customers with the successful planning of everything move related. Large move or small.
Whether you need a hand packing because you can't take the time off work or whether you're focusing on budget moving and using a shipping container, we can help! Our many moving services include packing, unpacking, labor only moves, piano moving, and even corporate moves! The best part is that we offer all of these services to fit your household budget
Life is hectic. We understand that any move or relocation can be disruptive. Disruption is the last thing you need when you live on a tight budget. It means taking time off work that you can't afford to take, spending every waking hour wrapping, packing and unpacking your belongings, and all of the aches and pains that come with lifting and carrying.
Here at Big Boys budget movers, we are a family owned business and we know how important it is to provide customers with good service at a good price. This is why we strive to offer the best budget moving services for your upcoming move. When you hire Big Boys Moving & Storage to manage your move or relocation to Tampa, Florida, we get to work as quickly and efficiently as possible.
Many cheap movers take twice as long to move your boxes which ends up costing you twice as much as you expected to pay. Here at Big Boys, we don't believe in this type of deceptive advertising! We are the best budget moving company in Tampa because we provide you with the service we would expect ourselves and we do it at a price that works with your family budget.
Without sacrificing attention to detail, professionalism, or congeniality.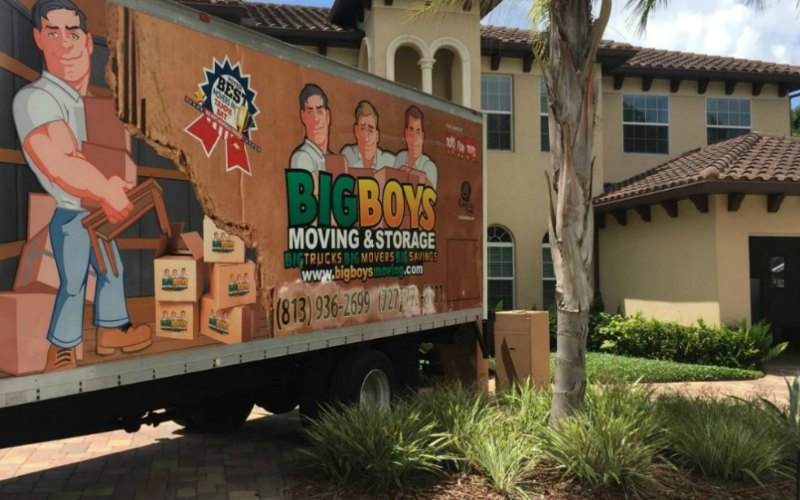 Cheap Moving Services & More
In addition to being a careful and professional budget moving company, we are fully bonded, licensed, and insured movers with over 13-years of moving experience.
Big Boys Moving and Storage can handle ANY size move!
We have even been voted as Tampa's best moving company for 10 years in a row! Why does Tampa love us so much? It all comes down to our quality of service, our timeliness, our friendly and professional movers, and our budget pricing.
Apartment Moves
Commercial Moving Service
Condo Moving Companies
Full-service Movers
Large-scale Moves
Load Shipping Containers
Pack/Unpack Moving
Piano Moving Specialists
Professional Moving Service
Residential Relocation
Self-service Moving
Small Local Moves
Specialized Movers
Reliable Budget Moving Company Tampa Bay
Our courteous and diligent staff is dedicated to sound customer care and efficiency.
Big Boys Moving and Storage will assist with every aspect of your move or relocation project. From planning and professional packing to delicate special equipment handling, to delivery and reassembly.
We are Tampa Bay's most dedicated budget moving company and the results will show above all other moving companies when you hire us for your move.
When local residents and small business owners need an affordable and reliable moving company, they call Big Boys Moving and Storage.
Voted Best Cheap Movers 10-yrs in a Row!
*$100 OFF MOVE next 15 calls
*$100 OFF MOVE restrictions apply. Cannot be combined with other offers.