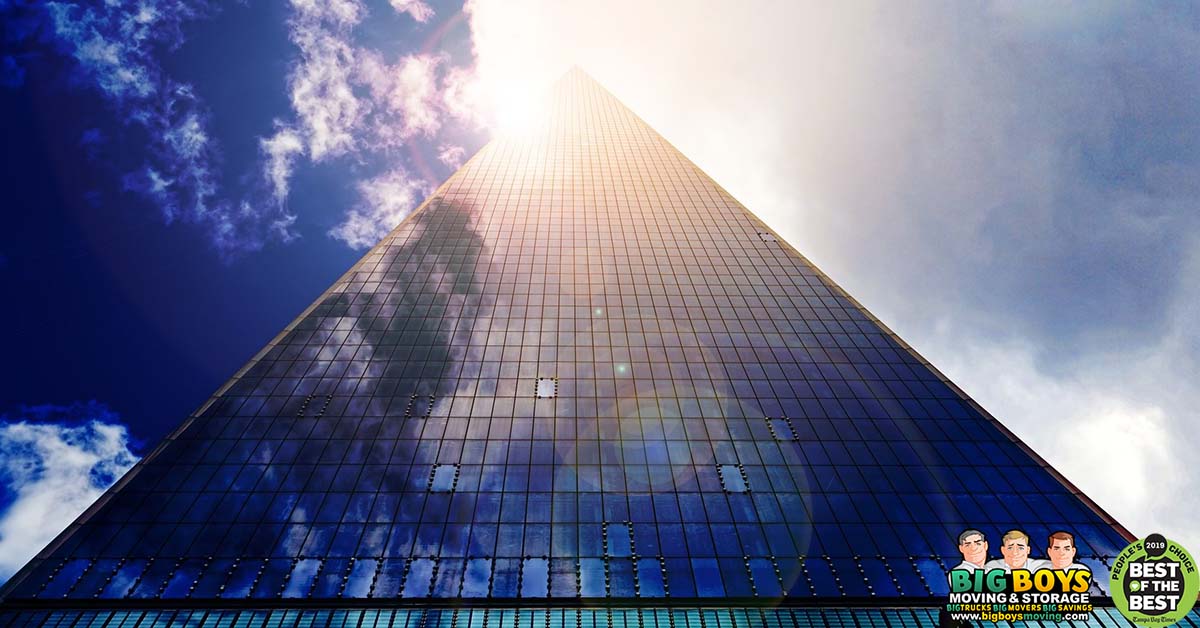 As the leading commercial movers in Tampa, here at Big Boys Moving, we have helped many companies (big and small) to become part of our neighborhood. This experience hasn't just allowed us to get to know our neighbors, but it's also helped us to perfect corporate moving techniques. That's why today we want to share some of our successful corporate moving tips with you to help your move go to plan!
Commercial Movers in Tampa Share Tips For a Successful Corporate Move
Plan Everything To The T!
One of the best tips that we can give you when it comes to making your corporate move is to plan every single aspect of the move. No detail is too small, because the better you plan, the more efficient your move is going to be! What type of things do you need to plan?
What day and time you will be moving. Plan this so that you have as little downtime as possible so that your company's bottom line doesn't suffer. For example: you may pay more to move on a weekend or after hours but doing so may save you more in the long-run because it means less downtime for employees.
Make a plan for exactly what goes exactly where! Create a blueprint that's easy to follow and give everyone on your moving team a copy to ensure that everyone is on the same page.
Make a plan for packing and loading boxes so that your items are more easily accessible for setting up your new office in order of priority.
Insist On a Point of Contact
Any reputable corporate moving company will assign a point of contact for your move. This means that you have one person who is assigned to help you to plan, execute, and finalize your move. This central contact will be available to you when needed and can answer any questions that you have about the move ahead. They will also serve as a contact between you and your full moving team to ensure that everyone is on the same page and that there are no miscommunications between team members. Here at Big Boys Moving, we ensure that you always have a point of contact who is familiar with your every moving need.
If You Have Stuff to Move Yourself…
If there are items in your offices that need special attention or that you want to deconstruct or move for yourself, make sure that you do this ahead of time and be sure that you place these items away from your items that will be moved by your movers. For example, if you have a particular piece of computer equipment that you prefer to move and set up yourself, it's best to get this done before your movers show up.
Make Sure Your Employees Know What to Do
If you are going to be moving during business hours and during this time, other employees will be at work, be sure that everyone in the office knows what is expected of them. Remind them to stay out of the way of your movers and let them know if they will be expected to pack and move their own cubicles.
If you have employees who are confused about what is going on with the move, they can not only delay the moving process by getting underfoot, but they can also cause complications if they try to assume a role in the move when they do not have one. For example, an employee who thinks that they are helping by giving your movers instructions that are "helpful" when they are actually going against the instructions that you have given the movers yourself.
Clearly Mark Items You Do and Do Not Want to Be Moved
Sometimes when you are moving offices, you don't want to take everything from the old facility to the new facility, so it's important to clearly mark which items will stay and which will go. This avoids things being moved that don't need to be and the possibility of getting into trouble with an office rental company for taking items that do not belong to you! For example, something as simple as a fire extinguisher that a rental company has provided in an office space. Your movers may think that this is your item and that they need to pack it up along with everything else.
The best way to mark items that are "going" and items that are "staying" is to use a color-coding system and be sure that everyone who is taking part in your move is aware of this system.
Get It Done Before Hand!
If you are going to be packing up your offices by yourself and just having the moving company move your equipment from one building to another, then always make sure that your packing is done before your movers show up. All too often things get behind and corporate moving companies show up to an office that is only half packed and this creates a number of issues. Firstly, if you still have items that need packing then your mover are going to have to change their strategy based on your delay. This could mean that your move simply doesn't get completed on time. Secondly, if you are pacing while your movers are trying to move, you are going to get underfoot which puts everyone in danger of injury!
Looking For Commercial Movers in Tampa?
If you're looking for commercial movers in Tampa who can help you to move your business into a new location, Big Boys Moving can help! Just pick up the phone and give us a call today at 813-936-2699 for a customized quote for your move!