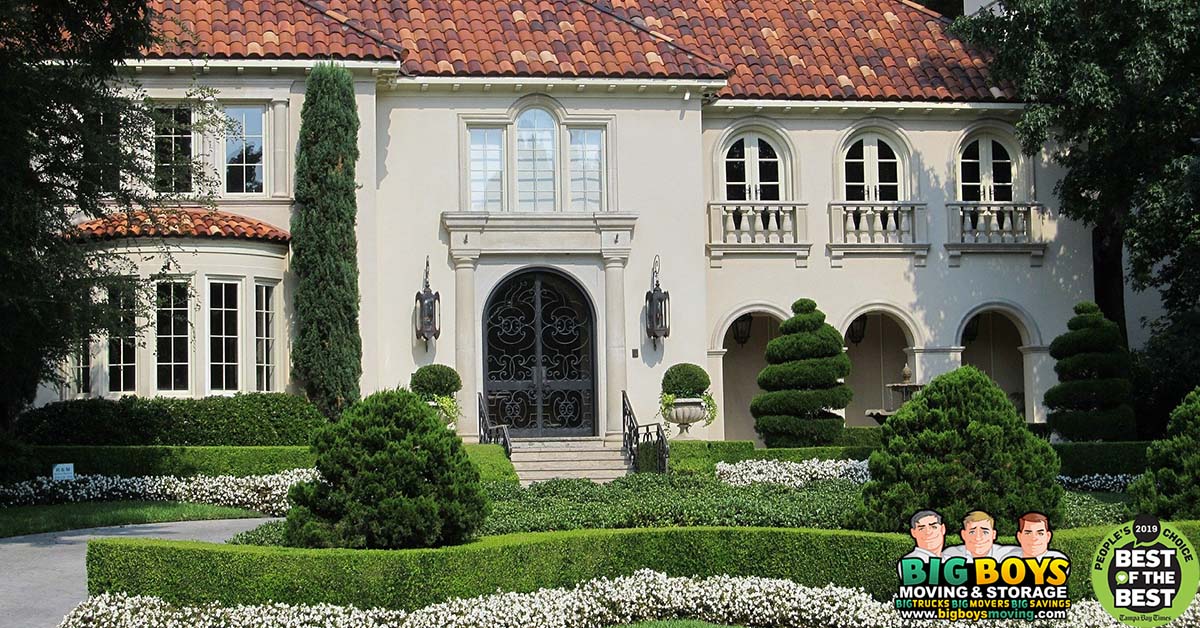 A Florida luxury moving company may sound like a "marketing gimmick" but there is actually a pretty significant difference between a luxury moving company and a traditional moving company!
Florida Luxury Moving Company: What Makes a Luxury Mover Different?
What is a Luxury Moving Company?
Before we talk about the differences between a traditional moving company and a luxury moving company, let's talk about what a luxury moving company actually is.
A luxury moving company is a company that specializes in the unique needs of clients who have a luxury lifestyle. This often includes high profile individuals in the community and celebrities,  but it also includes families with unique moving needs.
When you hire a luxury moving company you are hiring a company that takes care of everything you could need during your move. These services include careful packing and moving services (with special consideration for unique items like antiques), as well as arranging luxury car transportation, private plane transport, custom crating, around the clock moving services, staging old homes for sale, and setting up and decorating new homes.
So what in particular sets a luxury moving company apart from a traditional moving company?
Privacy
When hiring a traditional moving company, a reputable mover is not going to go around town telling everyone who they are moving, but they are also not used to taking the additional precautions needed when moving high profile clients. A luxury moving company understands the importance of extreme discretion when it comes to luxury moves. At Big Boys Moving and Storage we have been the go-to movers for various high profile individuals and families and our team is practiced in the necessary precautions required from these types of moves. Additionally, all of our movers are well-trained in successfully working alongside on-staff security teams so you can be sure that you and your estate are safe.
Packing Services
Every moving company should respect your personal property and take every precaution to move your items with care. When you hire a luxury moving company, however, you are hiring a company that is better equipped to pack luxury items for safe travel. For example, where traditional canvas paintings would be carefully wrapped for transportation, an original Picasso would be custom crated with premier packing and padding materials.
Customized Moving
When you hire a traditional moving company, you are hiring a company that offers generalized moving services. Think of this like walking into a fast-food restaurant and ordering a value meal. Your move cost is based on the number of rooms or the square footage of your moving needs and you can choose from packages, for example, packing and moving, packing and moving and unpacking, etc.
When you hire a luxury moving company, you are paying for a move that is customized to your unique needs. You choose what services you need, you direct your moving process, and you have the full and undivided attention of your moving manager. Customized moving means that you can dictate what, when, where, and how, and we take care of it. While you should always have control over your move, customized moving allows you to manage every detail. Think of this like ordering "a la carte".
Around the Clock Services
Traditional moving companies have traditional working hours. Those hours are not flexible and if you can manage to find a company that offers non-traditional hours, you wind up paying out of the nose. Luxury moving companies, however, offer around the clock services so that you can plan your move according to your needs and your schedule.
At Big Boys Moving and Storage, our services (both luxury and traditional) are available when you need them. We know that scheduling things like moving can be tough and we want to make that process as stress-free as possible. If you need us on weekends or holidays, just give us a call and let us know!
Specialized Moving Equipment
All moving companies should be equipped to pack and move the "average" household items safely without them getting damaged. This involves using moving dollies and professional moving trucks. Luxury moves have more unique demands though, and this sometimes requires specialized equipment to move those more unique items. For example, a luxury move may require moving an antique grand piano. This doesn't just involve specialized wrapping of the piano for transport, it requires wrapping in premium packing materials and moving equipment that will ensure that the piano stays carefully packed and is not jostled during the move.
Looking For a Florida Luxury Moving Company to Help With Your Move?
If you're looking for a reliable and experienced Florida luxury moving company to help with your move, Big Boys Moving and Storage is here for you. To book our luxury movers for your upcoming move just give us a call today at 813-936-2699!