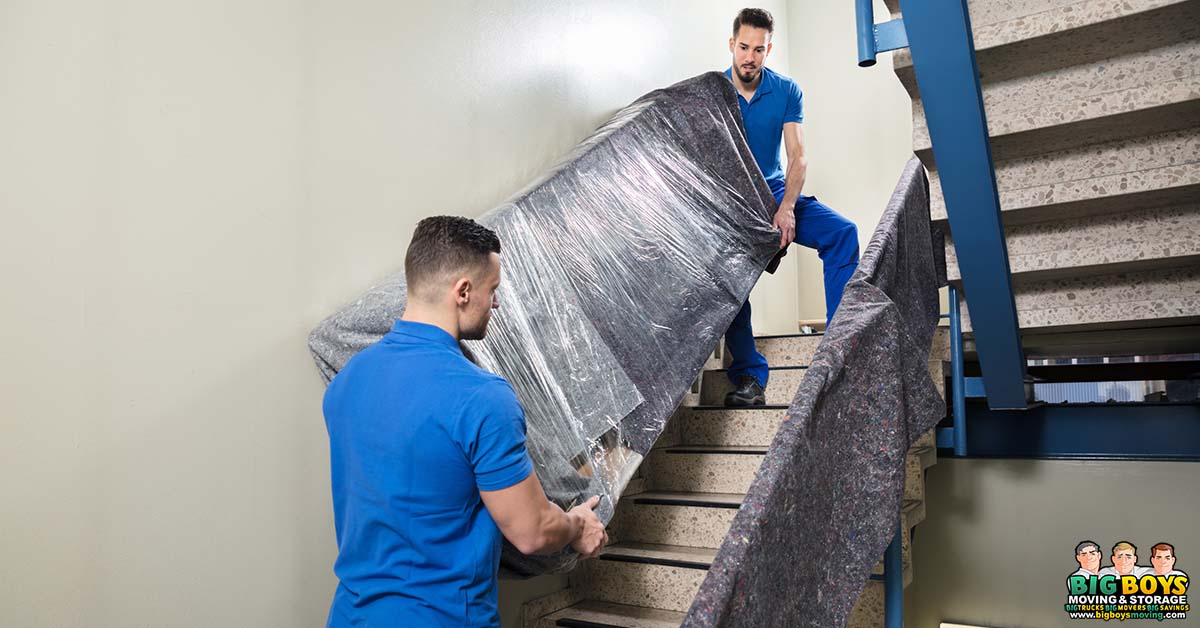 Many people don't know that you can hire furniture movers without having to employ a full moving team to do a complete move for you. Yes, most companies want to sign you up for the full moving package because it earns them more money, but here at Big Boys Moving and Storage, we believe in providing practical service. We don't think that you should have to pay extra money for a service that you don't need which is why we offer so many different types of a la carte moving services.
Furniture Movers Offering A La Carte Service
One of the things that our clients rave about more than anything else is the fact that we offer a la carte services. What does that mean for a moving company? It means that you can pick and choose the moving services that you need without having to pay for everything that you don't need! Of course, you always have the option of a full-service move if you'd rather.
Interested in learning more about our a la carte services? Allow us to tell you a little more about a few of the options that we offer!
Art Movers
It takes more than an average moving team to take care of moving a prized piece of art or an art collection. You can't just wrap up a painting and throw it in the back of a traditional moving truck along with every other item that's being moved. Moving a piece of art takes extra care and attention to ensure that nothing about the piece is damaged and Big Boys Moving and Storage have professional staff members who are well-versed in just that!
Commercial Equipment Movers
Whether you own a business, are starting a new business, or have picked up commercial equipment at a liquidation sale, moving commercial equipment is a pain. Bulky heavy items don't fit in traditional vehicles and renting a truck still means doing the heavy lifting. Fortunately, our team are available to help you with those oversized items!
Couch Movers
Are you planning a move and have everything planned out to a tee, yet you're still stuck trying to figure out a way to move that sectional or oversized couch? Some people choose to do their own moving using a pickup truck or even their own SUV, but this doesn't always work when you're moving a large oversized piece of furniture like a couch. Our moving team can help you with that, though. Our professional moving trucks are large enough to transport even the biggest couch and our team will do all the heavy lifting!
Appliance Movers
Just like moving yourself and being left with an oversized couch, moving with a refrigerator poses the same challenges. But our appliance movers can help you to get the job done without your having to try and rework physics to fit a huge appliance in the bed of a small pickup truck or SUV!
Gun Safe and Safe Movers
If you have a safe in your home or business then you know that they are exceptionally heavy. All good safes are heavy and for good reason, but that weight can be troublesome when it comes to having to move that safe from one place to another! Fortunately, our team can come right in and take care of your safe moving needs for you.
Hot Tub Movers
Stumped on how to move your beloved hot tub from your old home to your new one? Don't spend too much time fretting over it because our moving team is well versed in moving hot tubs! We've got the training, the tools, and the strength and we'll get your hot tub to your new place in no time.
Junk Removal
Whether you have a move coming up and need to clear out the junk left behind or whether you just need to clean up a bit, Big Boys Moving and Storage can help you to get that junk out of your home so that you can focus on your move or redecorating project.
Piano Movers
Have an oversized (or even regular sized) piano that you need moving? Whether you're moving to a new home and are taking it with you or whether you've just bought one and need a hand getting it home, we can help!
Single Item Pickup
Speaking of just buying things…have you ever made a spontaneous large item purchase only to realize that you can't fit it in your care to get it home? Call Big Boys Moving and Storage and ask about our single item pickup service, we can help you with all of your oversized purchases!
Packers
Not sure when you're moving or just need help packing for your upcoming move or to put things in storage? Our team of professional packers can save you time by helping you to pack so that you can focus on the move itself!
Labor Only Moving Services
Are you looking to save on moving and storage and decided to do your own packing or use a shipping container service? If you have but you're a little stumped on how to get the boxed from one home to another, we can help. We offer labor only services so that you can leave moving those heavy packed boxes to us while still saving money on moving costs!
Gym Equipment Movers
Gym equipment is heavy and bulky and taking it apart completely can be a pain. Fortunately when you have a professional team of movers on your side and they have the equipment and training needed to move that gym in as few pieces as possible so that you don't have to risk injury doing it yourself!
Are You Looking For Furniture Movers Who Offer A La Carte Services?
If you're looking for reputable furniture movers who offer a la carte services and who don't believe in pressuring you into paying for services that you don't need, Big Boys Moving and Storage can help. Our team of movers is professional, courteous, and always put the needs of our customers first. If you'd like to know more about the services that we offer or if you'd like to schedule a moving quote or moving services just give us a call today at 813-936-2699.