Big Boys Movers Ruskin
Big Boys Movers Ruskin Voted Best Moving Company! Family owned & operated in Tampa Bay since 2005. Commercial & Residential Relocation. Moving, Delivery & Storage. Apartment, Office, Home, Gym or Piano. Big or Small.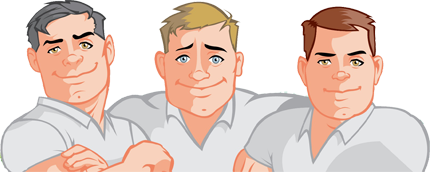 Voted BEST Movers Ruskin 10-years in a row!
Local Movers Ruskin

Whether you are moving a family, a small business or a large corporation, and you are in the Ruskin or Tampa Florida region, our moving specialists know how to help you in any type of move. A Big Boys Moving & Storage® representatives goal is to serve its customers at an exceptional level of professionalism.
What makes our team of professionals different is the level of skill and experience Big Boys Ruskin movers offer. Each member is uniquely qualified for their job, taking care of our customers. Whether it's a small move or a large move, our goal is customer satisfaction.
FREE MOVING QUOTE
Office Movers Ruskin

We understand that every business has its own unique moving and relocation requirements, some dictated by company policies. We know the relocation decision makers' reputations are on the line and the importance of controlling costs and securing the highest quality service available.
That's why we provide our corporate moving customers with a single source of accountability, custom relocation programs, and dedicated office relocation management. We work when it's convenient for your business. To ensure a minimal effect on work time, we offer evening, weekend and holiday packing and moving services.
FREE MOVING QUOTE
Big Boys Movers Ruskin Voted Best Moving & Storage Company
Our trained Ruskin Movers are reliable, careful and friendly. When it comes to your personal property and prized possessions – Do not settle for less! Apartment, condo, garage, office, home, storage, shipping container or gym. Load or unload. Packing or unpacking. Disassembly and reassembly. Big or small. In town or out. One item or a truckload.
We also offer clean-outs and removal, storage, packing supplies and emergency services. Piano and antique moving experts. Exclusive movers for local apartment communities.
At Big Boys Ruskin Movers, we treat your personal property and prized possessions as if they are our own! We have been referred on MacDill Air Force Base for Military moves and have also been requested by professional organizations to complete moves for local athletes and celebrities.
We complete in town and out of area residential moves on a regular basis, as well as large exclusive commercial projects.
Movers Ruskin recommends are few and far between. In this bustling city of constant relocation and vacation, there are plenty of moving companies to choose from, but unfortunately, many of them are unqualified and inexperienced.
With so much coming and going in Ruskin, many amateur moving "companies" have come onto the scene to make a profit. The problem with this is that inexperience (and lack of a business license and insurance) put your personal belongings at risk.
Here at Big Boys Moving and Storage, we have been voted as the top professional moving company in the area for NINE years straight! Don't think that that means we are a huge corporation, though. Big Boys is a small, family-owned business at heart. We began as a family-owned business and even as we have grown throughout the years, we have maintained our small business and family attitude.
We like to think that it's our unique outlook on business that makes us so popular with Floridians. We understand the value of a dollar because we work hard for every dollar we make, and we know that you do too! Because of that, we offer you fair moving rates without all of those extra miscellaneous fees that no one can ever justify.
So, if you're on the lookout for movers Ruskin residents trust and movers who can give you the services you need at a price you can afford, just give us a call! We offer everything from labor only moving to full-service moving packages for residents and businesses.
Apartment Movers Ruskin

Whether you are moving a family or a small business in Ruskin, the challenges can be staggering for amateur movers and moving companies. At Big Boys Ruskin Movers, we understand the landscape thanks to 13-years of providing Ruskin moving services.
We can easily get you moved into that new third story apartment you can't wait to relocate to. Did you try moving your belongings into that stunning second story Ruskin condo and remember how miserable it was? Call Big Boys, we love the challenges that every move offers.
FREE MOVING QUOTE
Pack/Unpack. Load/Unload.

We also offer labor only moving services in Ruskin. If you need to have a shipping container or a storage unit loaded or unloaded, we are the Ruskin movers for the job. Maybe you're pressed for time but only need a mover to pack your belongings or unpack them for you after a move… That's another Ruskin moving service that Big Boys offers.
We can even provide short-term or long-term storage. Our facility is climate-controlled and monitored 24/7.
FREE MOVING QUOTE
Big Boys Movers Ruskin FAQ
Do you offer free moving boxes?
Not only does Big Boys Movers Ruskin offer free moving boxes, we hook you up with moving blankets and more.
Are you a Licensed & Insured Ruskin Moving Company?
We are BONDED, Licensed and Insured. Our Florida Business license permits us to provide all moving services in the state of Florida. Many "moving companies" simply rent a truck and pay two guys to move your belongings. This means in the event of an accident, your belongings wouldn't be covered.
Big Boys Moving & Storage covers your belongings, our movers, and our moving trucks.
Do you offer a free moving estimate?
We do offer free moving estimates for all services, give us a call 727-773-8111 or 813-936-2699. If you prefer, use our quick quote request form.
Are same-day movers Ruskin available with short notice?
We can often accommodate short notice and same-day moves. It's best to call us to schedule your move or use our Live Help option.
Can you accommodate late-night moves?
At Big Boys Movers Ruskin, we understand that moving conditions often change. If you need a special move-in or move-out time, no problem, we can accommodate early morning and late night moves. We can even manage your overnight moving project.
Big Boys Moving & Storage Moves Tampa Bay