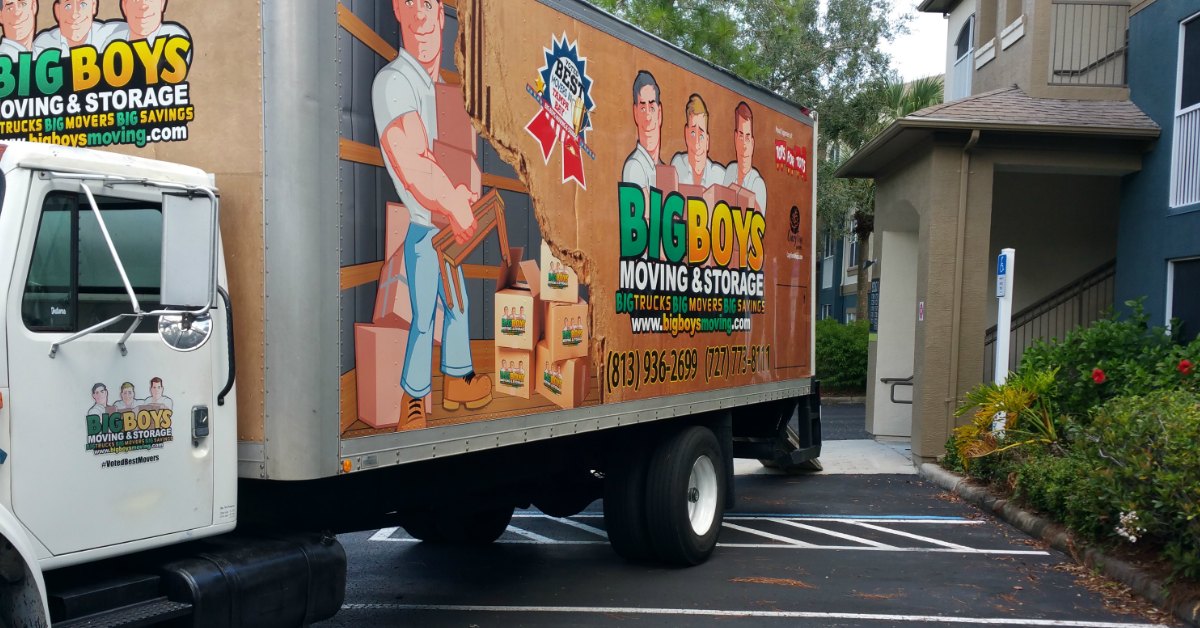 Today we're sharing 10 packing tips from the top moving company in Tampa (that's us!) to help you to get your packing done so that your stuff gets to your new home all in one piece! We know, there are a million and one packing and moving tips out there, but as the top moving company in Tampa, we have a little more experience than those other generic websites out there!
10 Packing Tips from the Top Moving Company in Tampa
1. Invest in Color Coded and Labeled Moving Tape
Invest in color coded moving tape that is labeled with room names. You can pick it up online or through local specialty shops. You can even make your own by taking color coded tape and writing room names across it. Color coded and labeled tape will make it much easier to know where to place your moving boxes in your new place and if you hire movers to move your stuff for you it'll make the moving process much easier for them too!
2. Be Discerning About What You Pack and When
When you start packing your home up you want to start as early as possible. Obviously you can't do that with everything you own, but start by packing your decorative items and those items that you won't need or use until you have moved into your new place. The more you can pack in the weeks before your move, the better, but don't pack anything you even think you might need because the last thing you want to do is have to unpack after you've already packed!
3. Number Your Moving Boxes
Using color coded and labeled tape on your moving boxes is a great way to get things organized when you pack, but we also recommend numbering the boxes from each room. This will help you to know what order to unpack your boxes in. For example, in the bedroom, you will want to unpack your bedding before you unpack your winter clothing if you are moving in summer. Numbering your boxes will make sure that you have immediate access to the "must haves" and won't get bogged down unpacking unnecessary items first.
4. Copy ALL Important Papers and Move Them Yourself
Make a copy of every important paper you have and keep the copies in a separate location from the originals. Store the original documents in a safe or safety deposit box at your local bank and transport the copies yourself so that you have access to them immediately if needed during the next week or so after your move.
5. Use Smaller Boxes For Heavier Things
When you pack your books or heavier items, pack them in smaller boxes. This will prevent you from overloading boxes and causing them to break or fall open. Also make sure that the smaller boxes you use are actual moving boxes rather than reused boxes that might not be strong enough to hold the items you're packing.
6. Load Boxes That Belong Together into Your Transport Together
If you are loading your own boxes because you're moving yourself or if you're loading a shipping container to have professional movers move it for you, make sure to load boxes that belong together into your transportation together. Keeping boxes together in "rooms" in your moving truck will make unloading much easier on you and your movers because it will mean much less back and forth.
7. Keep Track of What Needs Packing on a Whiteboard Calendar
Use a whiteboard calendar in a main room of the house to track what needs packing and when it should be packed. This will help you to make sure that everything gets packed before your move, but it will also help you to schedule what to pack when so that you're not packing things you will need too early in the move.
8. Check For Original Boxes For Your Electronics
Packing electronics is a pain and if you don't do it correctly you could quickly break your most expensive things during the move. Check to see if you hung onto any of those original electronics boxes and their packing material and if you did, use them! They are custom made for your electronics and designed to provide protection for them even while traveling.
9. Don't Get Lazy Packing Dishes
Packing your dishes and ensuring each of them is protected for the move is a tedious process, but don't get lazy and only wrap half of them! Dishes can and will get broken during your move if you don't wrap them all properly. We recommend wrapping each in packing paper or bubble wrap and placing them in a professional china moving box. If you don't have a china moving box, pad the bottom of your box well and place a Styrofoam plate or bowl between each dish or plate to keep them from knocking together.
10. Don't Pack Your Cleaning Supplies!
You're going to want to clean your home after you have moved everything out of it so don't pack your cleaning supplies before your moving day! You can set them all in a single box or carrying tote so that they can easily be moved from room to room while you're cleaning and they will be easier to move to your new home too. That way you won't forget those supplies that aren't packed and you'll make your housecleaning after your move so much more convenient!
Not Sure You Can Handle All the Packing on Your Own?
If you're not sure that you can handle all the packing on your own, then it's time to call in the professionals! Pick up the phone and dial 813-936-2699 and let Big Boys Moving and Storage come to your rescue. We offer full service moving options so that you don't have to do it yourself!