We can move your...
Apartment/Home/Office
Appliances
Artwork
Collectibles
Commercial Equipment
File Cabinets
Furniture
Gym Equipment
Office Equipment
Piano
Safe
Single Items
Storage Container
and more!
Family-owned & Operated. Bonded, Licensed & Insured. BIG & Small moves. Local & Long distance. Emergency & Last-minute. Load & Unload. Pack & Unpack. Labor-only options. Between-moves Storage & more! Voted Best Tampa Mover 13-years running!
Moving Company Tampa Big Boys
At Big Boys Moving Company, our trained, professional movers help our residential moving customers with the successful planning of all moves, large or small.
It doesn't matter whether you're moving into your first studio apartment or your very own home, we can provide you with the moving services you need at a price you can afford. Don't worry though, our affordable moving company rates are no reflection of the quality of our work!
Every one of our professional movers on staff is trained in the most important aspects of moving, including:
• How to safely wrap and pack your belongings to prevent breakage.
• How to move specialty items like pianos and large home furniture.
• Packing and moving professional office equipment while minimizing interruption in workflow.
• Maintaining safe moving practices to avoid injury to self or others during a move.
• Safely loading and unloading trucks to prevent damage to your possessions before, during, and after transit.
Life is hectic. We understand that a local move or relocation can be disruptive so we strive to offer the best moving company services for your upcoming local move. When you hire Big Boys Moving & Storage to manage your local move or relocation to Tampa, Florida, we get to work as quickly and efficiently as possible.
We ensure that our moving rates are affordable to everyone and that  (whichever moving services you require from us) are the services you need and well within your budget.
Without sacrificing attention to detail, professionalism, and congeniality, we are able to offer the best prices of any moving company Tampa has to offer! How do we manage to pull that off? Well, we're a family-owned business, we keep our overhead low, we work hard, and we treat our clients with respect. What does that have to do with anything? For a business like ours, your satisfaction is what gains us new business. When we give you the service you deserve at a price you can afford, we know that you won't  hesitate to send your friends our way!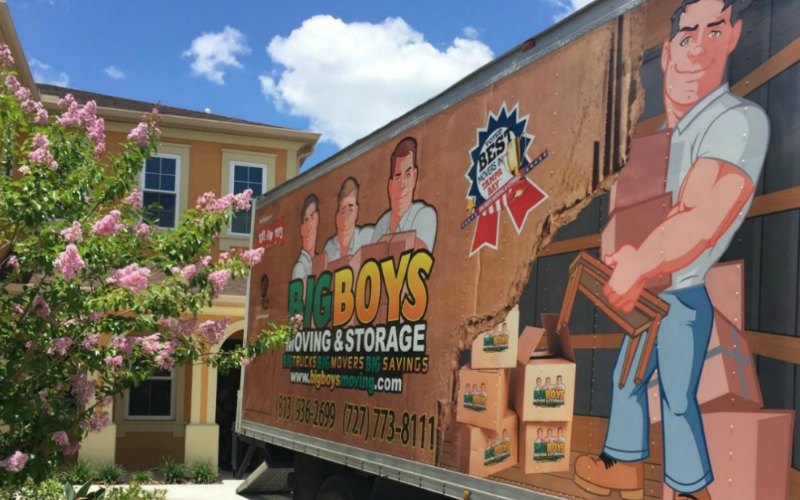 Moving Company Services & More
In addition to being a careful and professional moving company, we are fully bonded, licensed, and insured movers with over 13-years of moving experience.
Big Boys Moving and Storage can handle ANY size move!
Apartment Moves
Commercial Moving Service
Condo Moving Companies
Full-service Movers
Large-scale Moves
Load Podz, Zippy Shell, etc.
Pack/Unpack Moving
Piano Moving Specialists
Professional Moving Service
Residential Relocation
Self-service Moving
Small Local Moves
Specialized Movers
Affordable Moving Company Tampa, FL
Our courteous and diligent staff is dedicated to sound customer care and efficiency.
Big Boys Moving and Storage will assist with every aspect of your local move or relocation project. From planning and professional packing to delicate special equipment handling, to delivery and reassembly.
We are Tampa Bay's most dedicated moving service and the results will show above all other moving companies when you hire us for your move.
When local residents and small business owners need an affordable and reliable moving company, they call Big Boys Moving and Storage Company.
Voted Best Moving Company Tampa, FL!
*$100 OFF MOVE next 15 calls
*$100 OFF MOVE restrictions apply. Cannot be combined with other offers.