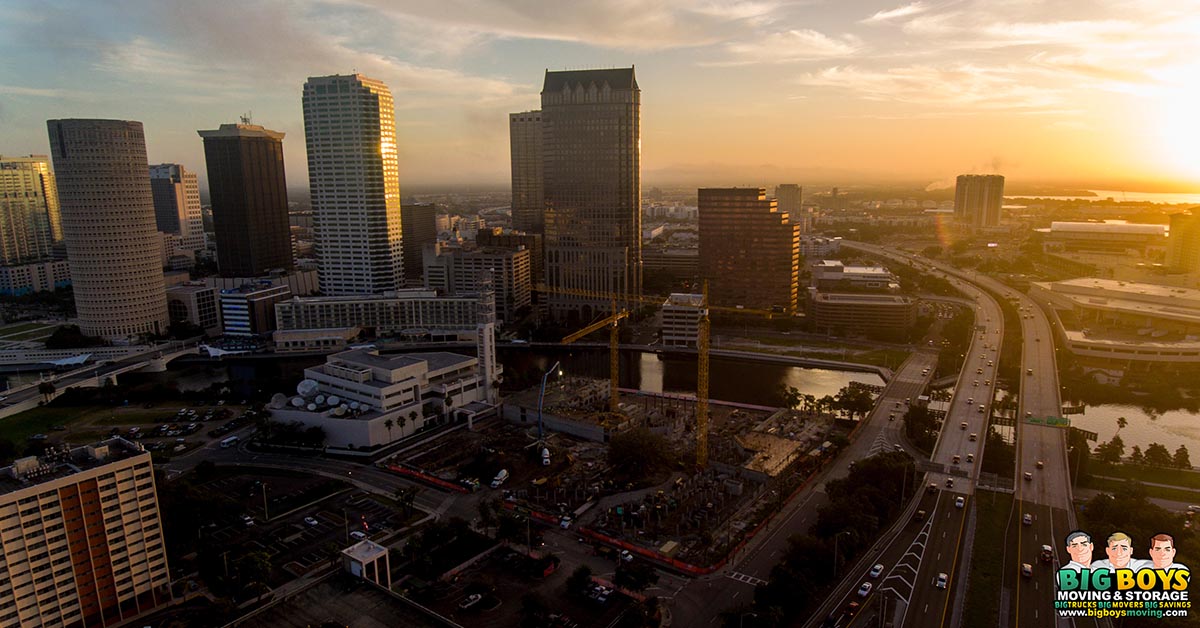 Moving Tampa Fl residents since 2005, Big Boys Moving and Storage have the honor of being nominated and awarded with the title of Tampa's best movers for the past 10 years! What is it that Tampa residents and residents to be love so much about our moving services? It could be any number of things!
Why Big Boys Have Been Moving Tampa Fl Residents Since 2005
We're a Family Owned Business
The experience and reputation of a major corporation can play an important role in choosing the right moving company for you, but here at Big Boys Moving and Storage, we have the experience, reputation, and equipment of a major corporation without the corporate front. We are a family owned business that has always hung on to the good old traditional family values. We believe in hard work, honesty, kindness, respect, and good business. How does that influence our moving services? It means that while we have the experience, reputation, and equipment of a big corporate company, we don't speed through our moves without taking care of your property, we handle all of your possessions with care, we are always kind and courteous, we work hard during your move to make sure that you get the most value for your money, and we always do everything that we can to ensure that you get the best deal on our services. We know that by providing you the best quality of service during your move we may not be the richest moving company, but we are going to be the company that you recommend to your friends and family and that's important to us.
Experience
Experience is one of the most important qualifications any moving company can have and here at Big Boys Moving and Storage we have plenty of experience! Since 2005 we have been moving Tampa Fl residents from apartments, townhomes, houses, and even mansions and along the way, we have gained experience in every kind of moving situation you could imagine! We know that things don't always go to plan, we know that situations change and solutions must be formulated at the last minute, we know that sometimes, you just need a moving company with experience to get the job done properly and we're that moving company!
We Offer Local and Long Distance Moving Services
No matter whether you are moving just a few blocks down or a few cities over, Big Boys Moving has got you covered. We have the professional moving equipment needed to move you where you need to go and to do it safely so that your possessions get there in one piece!
We Offer Residential and Corporate Moving Services
Whether you are moving homes or moving Tampa Fl businesses, we have the tools, knowledge, and experience to get that move done for you professionally and efficiently. We are more than happy to work with you on your larger moves to ensure that everything works well with your schedule and that everything is in place and exactly where it needs to be when you get to your new location. Use an amateur moving service and your grand piano could get left behind or your computer lab could wind up not functioning when your employees arrive at work on Monday morning!
We Offer Moving Packages for Every Budget
We know that moving Tampa Fl residents isn't a one size fits all service which is why we offer a range of moving packages that are designed for every budget. Whether you need help moving your packed boxes into a shipping container or whether you want a full-service move so that you don't have to lift a finger, we've got you covered.
We Are Licensed, Bonded, And Insured
Every moving company responsible for moving Tampa Fl residents must carry a license and should always be bonded and insured. These qualifications are necessary for your own protection and while other moving companies may not care whether you are protected against damages, theft, or other incidents during your move, we do.
We Use Professional Moving Equipment
When moving Tampa Fl residents, we always utilize professional moving equipment unlike some of those other companies who hire anyone capable of lifting a box and throwing them into a U-Haul truck. Our full sized moving trucks are equipped to move your belongings from one home to another quickly but safely and they're loaded with professional moving dollies and blankets. Why is it important for your mover to use professional moving equipment? Because it means your boxes aren't falling from missized dollies, your move doesn't take twice as long as it should, and your furniture is always properly protected.
We Use Professionally Trained Movers
You may think that the training that a mover receives is irrelevant, but it plays an important part in the success of your move. Movers who have the proper training understand how to pack, disassemble, load, unload, reassemble, and unpack your belongings so that they're always carefully handled. This means less chance of breakage during your move and a smoother moving process overall.
Big Boys Moving: Moving Tampa Fl and You!
If you're planning a move within Tampa, Florida or plan on moving to or from the Tampa, Florida area, Big Boys Moving and Storage can help. We offer a full range of moving services from labor only moves to full-service moves and we're always here to help to make your move go smoothly! To find out more about how we can help your move go without a hitch, give us a call at 813-936-2699 or fill in an online information request here and we'll get right back to you!