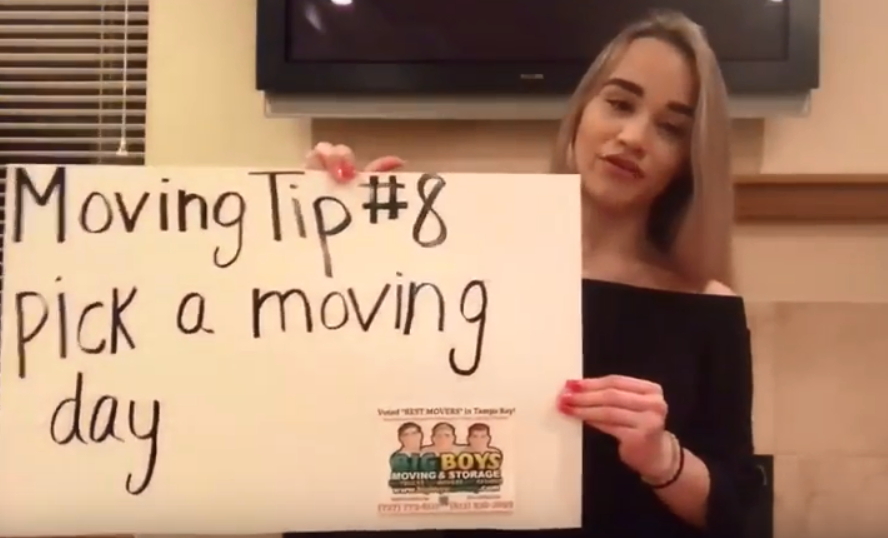 Good morning Tampa and future Tampa residents! Today we've got another great Tampa moving tip from Big Boys Moving and Storage! So here is Sarah with the eighth installment of our, "Moving Tip of the Day" segment in video format. Don't panic, we're not going to keep you for half an hour, we literally need just a few seconds because this video is under half a minute long!
Moving Tip of the Day #8
Moving Tip of the Day Transcription
Sarah:
"Good morning future movers, it's Sarah for BigBoysMoving.com with the Moving Tip of the Day. Here we have number eight which is "pick a moving day." That's the Big Boys Moving Tip of the Day (MTOTD). Have an amazing day! I'll be back tomorrow with another moving tip. Visit BigBoysMoving.com for more information."
Today's moving tip might seem like common sense, but many people postpone picking a moving day until the last minute. This is bad for plenty of reasons but most of all because it means that you won't have your movers booked in advance! It is possible to book a last minute mover in Florida, but you will always pay more for a last minute arrangement. Pick your moving date ahead of time and stick to it and you'll save yourself some money!
About Big Boys Moving & Storage
Big Boys Moving and Storage are Tampa's favorite moving company for residential and business moves! They have even been voted as Tampa's best moving company by Kudzu customers for nine years straight!
Want More Moving Tips?
If you are considering moving to Tampa or the surrounding area, connect with us on Google or Facebook, and check out more of our professional moving tips!
Are you looking for someone to help you with your last minute Tampa moving company needs now? Give us a call! And don't forget to ask about our current special offers so that you can save even more money on top of our affordable rates! Just dial 727-773-8111 or 813-936-2699 today and tell us how we can help to make your move a smooth and pleasant one!