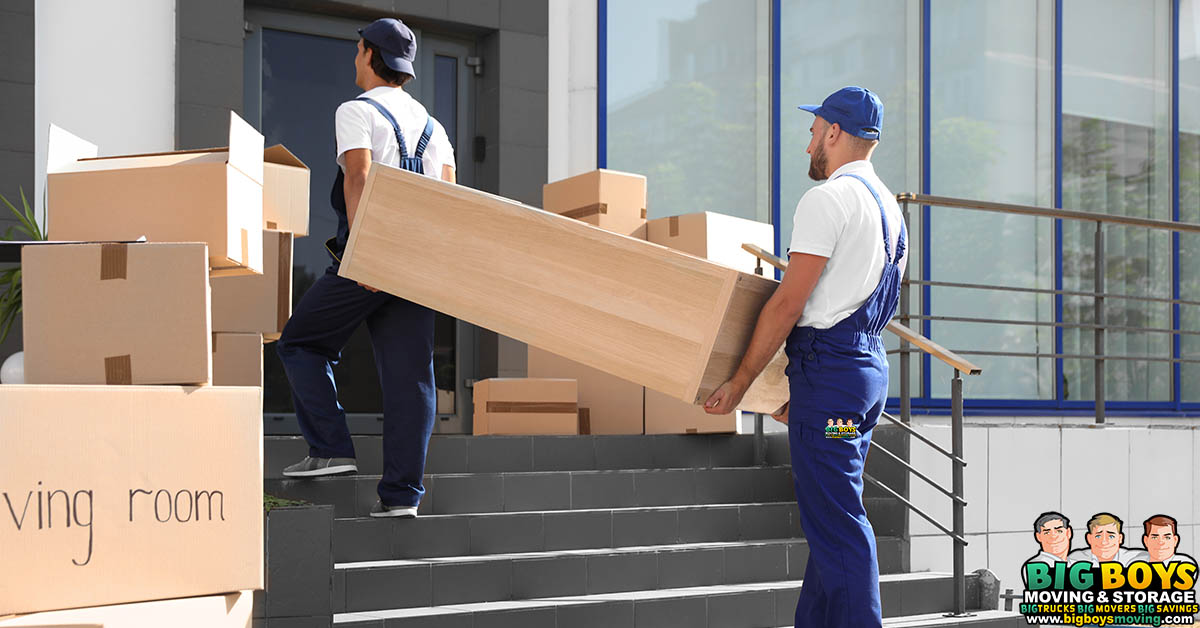 As the leading packing company in Tampa (and the top moving company!), we here at Big Boys Moving and Storage know a thing or two about packing. While it's always best to have a professional take care of your packing for you if you do decide to do your packing yourself, there are some things that you can do that can help to ensure that your belongings get to your new home intact. We've shared a number of great packing tips here on our blog before, but today we've got a few more!
Packing Company in Tampa Shares More Top Packing Tips For Your Move
Mark Items That Should Be Loaded Last
When you've packed your boxes and are ready to have them loaded on the truck it's important to remember that the last boxes that are loaded are going to be the first boxes that are unloaded. If there are items that you are going to need very quickly after you get to your new home put those items in the marked boxes (use masking tape to mark larger items) so that they will be loaded onto your truck last. For example, if you have an infant, you may want to have their crib loaded into the truck last so that you can unload it first and that way, your child won't miss nap time. Many parents also mark televisions or other electronics that will keep children distracted while the moving crew is unloading the trucks and they are unpacking.
Mark Off an Area of the Home as a "Do Not Load into the Truck" Area
As you are packing, there are going to be things that you want to take in your own vehicle rather than having them loaded into the moving trucks. The best way to prevent accidental loading of these items is to cordon off an area of your home and mark it as a "do not load into the truck" zone. Let your movers know that anything in this room or area should be left alone. Some examples of things that you may have in this area include a vacuum that you will be using to clean your old home, valuable jewelry, your child's favorite teddy bear, and overnight bags so that you don't have to rifle through boxes looking for things as soon as you get to your new home.
Ship Media Items Using USPS
If you have a large library of books, USPS is a great way to reduce your moving bulk and save money. Books take up a lot of space and are very heavy and a large number of books can cause your moving cost to skyrocket. A great way to reduce your moving cost is to take advantage of USPS media mail. Media mail is a very affordable way to ship items and it costs much less than taking up half of your moving truck with your library of books!
Talk to Your Movers About Any Items That They Won't or Can't Take For You
There are certain items that moving companies will not allow their teams to move. These items are usually on the "do not move" list because they are hazardous to the health or safety of the driver or they may exceed the limits of the company's insurance coverage – for example, if you have a million-dollar diamond ring.
Some of the items that are commonly found on the "do not move list" include:
Firearms and ammunition
Paints, paint thinners, varnishes, lacquers, and other paint related solvents or products
Aerosol cans
Household cleaning products
Pesticides and fertilizers
Perishable foods
Oxygen tanks
Fireworks
Fire extinguishers
Batteries
As you can see, many of these items are items that are highly flammable and that could explode when under pressure or in high heat.
Use Up The "Old" Before You Move
The fewer items you have to pack and move, the better! As you plan your move, mark off the few weeks before and during those weeks, use up as much of your "old" items as possible. For example, use up perishable foods by planning a menu that incorporates as many of your "in stock" ingredients as you can and us as much of your toiletries as you can – try to squeeze that last drop out of the toothpaste tube!
File Your Important Paperwork in a File Box and Move It Yourself
You should always know where your important paperwork is which is why you should file it properly in a file box and move that box yourself. If you hire a reputable moving company, you should be able to trust them with your items no matter what they are, but sometimes accidents and mishaps do happen so it's CRUCIAL that you keep these items in your possession at all times. Some of the items that should be kept in your important files file box include:
Birth certificates
Marriage certificates
Tax records
Financial records
Insurance policy documents
Medical files
Looking For a Packing Company in Tampa to Do Your Packing For You?
If you are looking for a packing company in Tampa that you can rely on to do your packing for you – a company that is reputable and experienced – look no further than Big Boys Moving and Storage. Give us a call today at 813-936-2699 and let us know how we can help you!