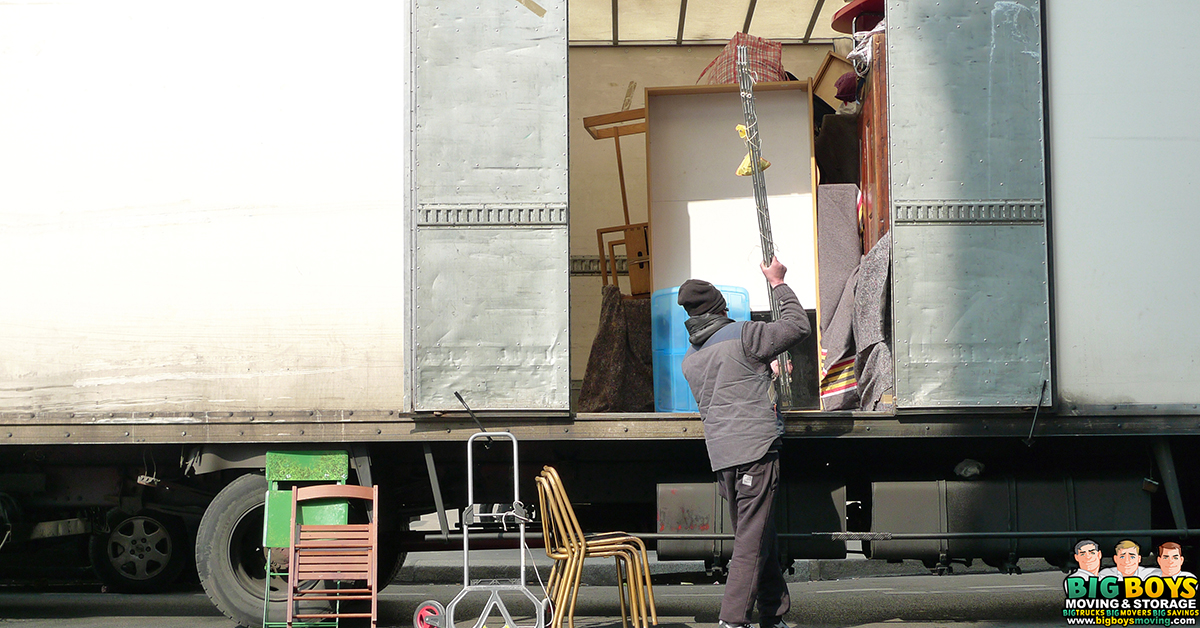 Rental truck unloading is part of moving if you decide to move yourself, but rental truck unloading (and loading) is a job best left to the professionals. Most people don't know that you can hire labor-only movers to help with the job, but many Tampa moving companies provide this service including Big Boys Moving and Storage! So, just why should you leave rental truck unloading to the professionals…?
8 Reasons Why You Should Leave Rental Truck Unloading to the Professionals!
1. To Prevent Injury
Whether you already have an injury, have a previous injury that has healed, or simply want to avoid injury, it's always best to rely on professional movers to help to unload your rental truck. We understand that you may have decided to complete your own move to save money, but if you are injured during the unloading process, you risk losing months of paychecks as you heal from your injury. Not only that, but you risk a lifelong injury which can cause you a lifetime of pain. Professional movers are experienced and trained in the proper lifting, carrying, and unloading techniques required to avoid injury.
2. It's Hard Work
If you're like us, you're not aversed to hard work, but after you have spent the day doing everything else involved with your move, you're probably aren't too excited about unloading that moving van and unpacking. So, why not leave it to us? Or, if you're looking to save a little money, have us do your rental truck unloading and you can get started on unpacking those boxes!
3. Because Florida is Hot
It's currently December and the past few days have been hovering around 80 degrees Fahrenheit. Now, 80 degrees Fahrenheit may not be anywhere close to the scorching summer temperatures we're used to, but once you start unloading boxes from a rental truck…well, it quickly starts to feel much warmer than 80 degrees! Fortunately, as professional movers, we are used to the high Florida temperatures and we have an efficient loading and unloading system that will get the job done quickly, safely, and without anyone passing out from heatstroke! So you can go and sit inside in the air conditioning while we get those boxes taken care of for you!
4. You Have Enough to Do
There is plenty to do on moving day and having one less thing on your "to-do" list is time that you can spend taking care of everything else. Whether you need to clean your old rental unit, start unpacking boxes in your new home or even finish packing boxes in your old one, let us take care of rental truck unloading services while you focus your attention on one of the other million things that you have to get done! Oh and you never have to worry about leaving your unloading in our hands, we are not only a fully licensed Florida moving company, but we are bonded and insured too!
5. Stairs
So…you've had to take an apartment on the third floor and your sofa isn't going to fit in that puny elevator…or worse yet, there isn't an elevator for your building! That means that once you unload your rental truck you also have to figure out how to haul that sofa up the stairs. You could attempt it and recreate the infamous scene from the hit TV show Friends (where the sofa winds up cut in half), or you could call on Tampa's top moving company to unload your rental truck for you and get that sofa up multiple flights of stairs in one piece…
6. It's Affordable
We know that moving is sometimes more expense than you can face, especially if you've just purchased a new home, but here at Big Boys Moving and Storage all of our moving services are priced affordably. We do that because we are working men and women too and we know how disheartening it can be when you have to hand over two months' paychecks just to cover moving services. We also frequently offer coupons and deals on our moving services to help to make them more affordable. If your budget is still limited, however, we also offer a la carte moving services in Florida. What does that mean? It means that you don't have to book us to take care of your packing, loading, moving, unloading, and unpacking, it means that you can hire us for any select moving service! So if you find yourself limited on your moving budget, you can pack your boxes yourself, rent a truck, and just hire us to do your loading and unloading for you! Or, if your budget is even tighter, have us do your unloading only so that you can take care of other moving day tasks that need completing!
7. You Can't Get a Day Off Work
Whether your vacation days are limited or whether you just can't afford to take a day off work to get your move done, our professionally trained movers can help. If you're limited in the amount of time that you can take off work for any reason, you can have a responsible adult present to oversee your move and leave the unloading to us! Just leave a responsible adult in charge to direct our movers and to oversee the project to ensure that everything goes where you want it to and we'll take care of the unloading of your truck for you so you can go about your workday uninterrupted!
8. It's More Work Than You Thought
A lot of times people hire a rental truck to complete their own move and when they're halfway through the moving process they realize that it's more work than they bargained for. Fortunately, there is labor only moving companies like ours who can take over your move half way through! You pack and load your rental truck, get it to your new place, and leave the rest to us!
Ready to Hire the Tampa Movers for Rental Truck Unloading?
If you're ready to hire Tampa movers for rental truck unloading, Big Boys Moving and Storage can help! We're standing by, just give us a call today at 813-936-2699!