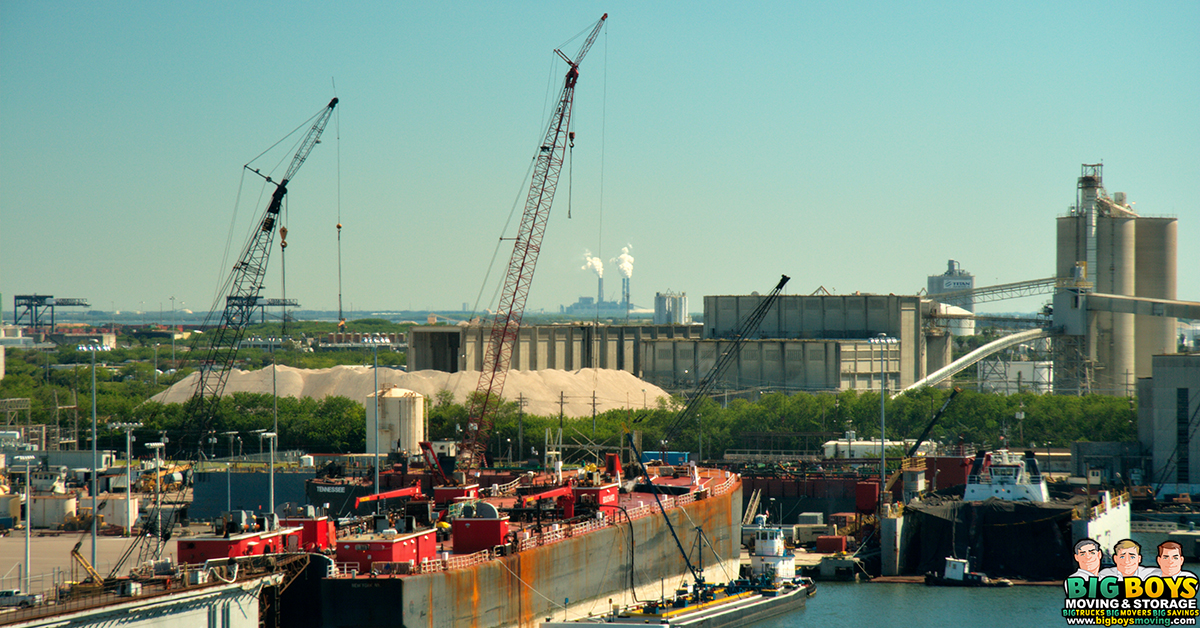 Looking for shipping container movers for the Port of Tampa, Florida? If so, Big Boys Moving and Storage Port of Tampa shipping container services can help! We offer a full range of shipping container moving services from packing to loading to moving.
Shipping Container Movers for the Port of Tampa, Florida
If it's your first time having to move a shipping container then you are likely a little stumped as to what to do, where to go for help, and what type of services are available to help you. You're not alone. Most people don't even know that shipping container movers are a "thing". Here at Big Boys Moving and Storage, though, we offer a full range of shipping container moving services in Tampa and the surrounding areas. Allow us to tell you a little bit about these services and how we can help you to turn a logistically difficult move into a much easier one.
Transport to and From Shipping Containers
If you have a large amount of property or material that you need to be transported to or from a shipping container, Big Boys Moving and Storage can help. Our professional movers and professional moving trucks are available for transporting your items to your shipping container or to your end destination from your shipping container. That means less lifting and carrying for you and it also means that your property is insured and being moved by professionals so you can rest at ease knowing that it's in good hands.
Loading and Unloading Shipping Containers
Loading and unloading shipping containers can be hard work. It's more lifting, more carrying, and it's definitely a strain on your body if you're not used to regular labor-intensive work. We always advise using professional shipping container movers for loading and unloading because it's the only way to avoid injuring yourself severely and potentially impacting your ability to work for the rest of your life!
When you hire professionals to load and unload your containers you can also take comfort in knowing that everything is being loaded and unloaded professionally. What does that mean? It means that the correct equipment is being used to get your materials into your shipping container and to lift your materials out of that container after travel. It means getting boxes, crates, and other belongings out of that shipping container and into a moving truck for delivery or out of that container and…well…wherever you want them to be.
Packing and Unpacking Shipping Containers
Shipping container movers aren't just able to help you to load your items into your shipping container, they can also help you to pack your container too. What's the difference between packing and loading? Well, loading your shipping container means getting your items into your belongings or items into your shipping container while packing means strategically placing items inside your shipping container so that they are placed for the safest shipping process possible.
There are many factors that influence how items should be packed into a shipping container, for example, weight, size, fill capacity of the container. Professional shipping container movers have the experience and knowledge needed to plan and pack your items in your shipping container to limit any shifting, avoid breakage, and ensure that everyone is safe when the container is opened again.
It's also important to know that often you can be held responsible if your shipping container was packed incorrectly and resulted in an accident. In this instance, you will not only be unable to claim the cost of your lost items, but you may also be on the hook for damages! Leave the job to the professionals and you don't have to worry about knowing the in's and outs of packing shipping containers!
Unpacking shipping containers is equally important too! Somewhat like a game of Jenga, unpacking your shipping container is a delicate process and just one wrong move can wind up in disaster. Fortunately, our professional shipping container movers have the experience needed to strategically unpack your shipping container safely.
International Shipping
Need to arrange international shipping for your shipping containers? Leave it to us! As part of our shipping container movers service, we can take care of everything from packing and loading to international shipping arrangements, unloading, and unpacking! This makes things so much easier for our clients because it allows them to sit back and relax knowing that every step of their shipping container move is being taken care of and overseen by one company so there's no chance of miscommunication as your move transitions from one phase to the next. You can trust that here at Big Boys Moving and Storage, we have all of your shipping container movers service in hand.
Need to Book Shipping Container Movers for the Port of Tampa, Florida?
If you need to book shipping container movers for the Port of Tampa, Florida, whether you need packing, loading, or moving services, we've got you covered! Just pick up the phone and give us a call today at 813-936-2699 to book our shipping container movers services or to ask how we can make your move go a little more smoothly.