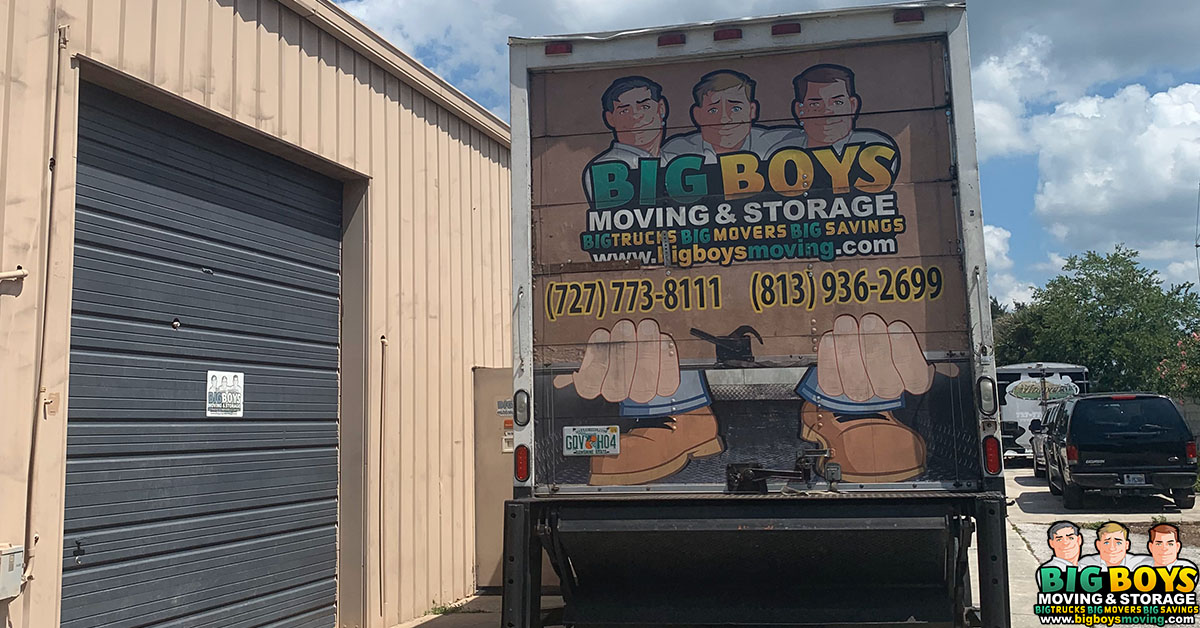 As the top Tampa apartment movers in the area, here at Big Boys Moving and Storage, we have moved thousands of people into and out of apartments over the years. This experience has allowed us to collect some incredibly helpful information when it comes to the necessary timeline for a smooth apartment move. Today we want to share some of that information with you so that you can have a much easier move out of or into your next new place!
Tampa Apartment Movers Share an Apartment Moving Timeline
It can feel overwhelming when you consider everything that needs to be done to get your apartment move started let alone finished! Then there are also the responsibilities involved with setting up that new apartment so that it's ready for you to move in to as soon as you move out of your old place! To help your apartment move to go a little more smoothly, we've spent some time putting together a timeline outline based on our experience and our moving resources.
Step 1: Book Your Movers
As soon as you have a timeframe for your move, speak with local moving companies to find out their availability. Doing this as soon as you can allows you to take advantage of cheaper moving rates. You see, most moving companies offer cheaper rates during off-peak hours, so the sooner you book your movers, the better chance you have at taking advantage of those cheaper move-in weeks, days, and times.
If your move is a last-minute thing, don't panic, many times you can still get a great discount on last-minute moves! Whether it's due to an unfilled moving schedule slot or a client who had to postpone their move, moving companies don't want to see idle time so they may be able to offer you discounted rates for taking these open moving slots.
Step 2: Give Your Notice
If you are required to, be sure that you give your notice to your current apartment complex to let them know that you will be moving. The amount of notice that you will need to give will depend on your current rental agreement so be sure that you give the appropriate amount of notice to avoid unnecessary fees and penalties.
Step 3: Submit a Change of Address
A change of address takes a while before it becomes effective, so as soon as you have a new address, submit your change of address online or at your local post office.
Step 4: Arrange For Your Utilities to Switch
Planning ahead to have your utilities at your current home cut off and your utilities at your new apartment turned on helps to avoid having the necessary utilities when you need them! Planning ahead for this will also allow you to time things so that you don't pay for unnecessary connected utilities. For example, if you are moving on the last day of the month and your utilities bill on the 3rd of the month, you can disconnect on the second and avoid having to pay for the next month of utilities.
Be sure to have your new apartment utilities already set up by moving day, your movers won't be able to do their job in the dark!
Step 5: Purge and Sort
Go through your home and start throwing out, donating, and selling items that you don't need or use. This will reduce the number of unnecessary items that you move from one home to another. If you join a local yard sale or use consignment stores, you can even raise a little money to help with your move!
Step 6: Make Moving Day Arrangements
Have kids or pets? If you don't want them underfoot on moving day be sure to arrange for childcare or petsitters to take care of them while you focus on your move. Also, make sure that you book time off work if needed so that you can supervise your move.
Step 7: Start Packing
If you haven't already started packing, it's time to start! Work on one room at a time and be sure to label boxes accurately so that your movers can easily relocate boxes and you can unpack them in the necessary order.
Step 8: Call to Confirm
The week before your move, you should call your moving company to confirm your moving date and time. This avoids inconvenient incidents with schedule mix-ups!
Step 9: Start Cleaning House
If you want your security deposit back you will need to leave your apartment as you found it when you moved in. The best way to do this is to have housecleaners come in after you leave. If you cannot afford to do this, however, start cleaning here and there in the weeks before your move so that you're not facing a day of cleaning on the day of your move.
Step 10: Pick Up Your New Apartment Keys
You will need your new apartment keys ahead of time so that you can let the movers into your new place come moving day. Try to schedule your move so that you have at least one day of access to your new place before your moving day.
Step 11: Be Home When Your Movers Arrive!
Make sure that you are at your apartment when your movers arrive on moving day. This keeps your moving fees to a minimum and gets your move completed ASAP!
Step 12: Drop Off Your Keys
Once all of your boxes have been moved out of your old apartment, do a walkthrough to ensure that you didn't leave anything behind. Once you are satisfied, close up your old apartment and hand in the keys to your complex management team!
Step 13: Unpack!
Once your move is complete and you're standing in your new apartment surrounded by boxes, it's time to start unpacking. Whether you unpack everything at once or unpack a little at a time, it's up to you, but we recommend getting it all done at once so that you can get back to your normal schedule ASAP!
Looking For the Best Tampa Apartment Movers?
If you're looking for the best Tampa apartment movers to help you with your upcoming apartment move, Big Boys Moving and Storage can help! Not only are we the most recommended moving company in Tampa, but we have also been awarded multiple awards for being the best residential and corporate moving service in Tampa, Florida, and the southeast U.S.! If you'd like to have us complete your upcoming move for you, just give us a call today at 813-936-2699 and let's get started on getting you into that new place ASAP!