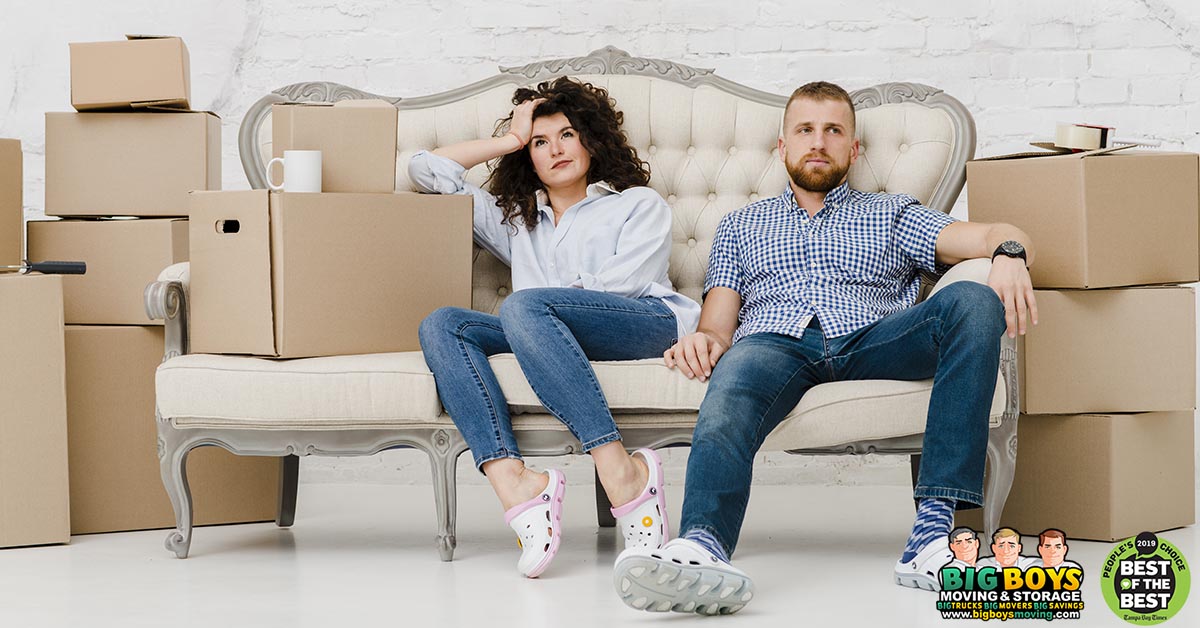 As the top Tampa furniture movers, we here at Big Boys Moving and Storage know how to move anything and everything. When it comes to moving heavy items, we always recommend that you hire professional movers to do the job for you because it can be a logistically and physically difficult process. If you do decide to do the job yourself or to have professional movers take care of only moving your boxes, however, there are some things that you should keep in mind to make sure that the job goes smoothly and that you don't hurt yourself.
Tampa Furniture Movers Share Heavy Item Moving Tips
Clear a Path
The first and most important step in moving anything (heavy or not), is to make sure that you have a clear path. The last thing that you want to do is to lift and start moving something heavy only to have to put it down to clear a path or to trip and injure yourself because of an obstacle.
Pick up any items on the floor, push any other furniture out of the way if needed, keep pets and children out of the way, and make sure that any necessary doors are open. It's also important to let other people around you know that you are moving something large and heavy so that they can stay out of the way.
Know How to Lift
Something we all hear frequently is to lift with your legs and not your back. This is particularly important when moving large or heavy items. You should be using your legs to do the work. When lifting, bend your knees and not your back and when carrying, keep your shoulders back and your back straight while looking forward. Do not bend or lift using your back as this is how injuries can (and frequently do) happen.
Wear Gloves
We always recommend that you wear gloves when moving large and heavy items. Although it's not mandatory for a safe move, wearing gloves helps to protect your hands, to reduce the chance of splinters and blisters, and it also helps to give you a much better grip on heavy items that can be difficult to hold.
If you do decide to wear gloves, invest in a pair of gloves that fit well and that have a grip built into the palms and fingers so that you can feel more secure when lifting and carrying. Just be sure that the gloves aren't too bulky otherwise they could cause you problems since you will have less awareness of what you are holding.
Hold Heavy Items Close
When lifting and carrying heavy items, you want to carry them as close to your body as possible. This will help to ensure that you don't lose your balance, that items won't slip out of your grasp as easily, and will allow you to use your body to support lifting without putting too much strain on just your arms.
Don't Rush
It's natural to want to get your heavy lifting over and done with and to be moved into your new place as soon as possible, but don't rush! It's common sense not to rush while moving heavy items but most of us do it. Try instead to be mindful of moving slowly and with intention and if you're moving with a moving partner, be sure to remind them to move at the same pace. It may take you longer to get to your final destination, but it's going to make sure that you and your furniture get there in one piece without injury.
Communication is Key!
Communication is crucial when it comes to moving particularly heavy and bulky items. When moving these types of items, you are going to need help from a moving partner or moving team and without proper clear communication, you risk hurting yourself, your moving partner, and damaging your furniture.
Talk about your moving plan with your moving partner before you begin moving anything so that you both have a clear idea of what you are moving, where each of you is standing, and where you are going to move. This may seem tedious but it'll save you a lot of time and argument in the long run.
Work Smart Not Hard
When under stress and when taking on labor-intensive jobs, we often tend to set our common sense aside and focus instead on just getting the job done. This can cause a number of problems, but it also causes many of us to work much harder than we need to. For example, focusing on getting a large item moved from one room to another, we may focus on simply moving the object and not the fact that we can push that item over the bare floor to move it with very little effort rather than lifting and carrying.
Take a moment before moving larger items and make sure that you are using the best way to move that item!
Carry Items Low Rather Than High
When carrying heavy items, keep them at waist level or lower and don't lift them higher. Lifting items above your waist requires more effort on your part but it also makes it much more likely that you'll drop the item or hurt yourself while moving. Keep items at waist level while carrying and you can use your body to support the item and you don't risk injury.
Are You Looking For Tampa Furniture Movers?
If you're looking for Tampa furniture movers to help with your upcoming move, just give us a call here at Big Boys Moving and Storage at 813-936-2699. We'd be happy to help you with every aspect of your move from furniture moving to shipping container loading, we've got you covered!