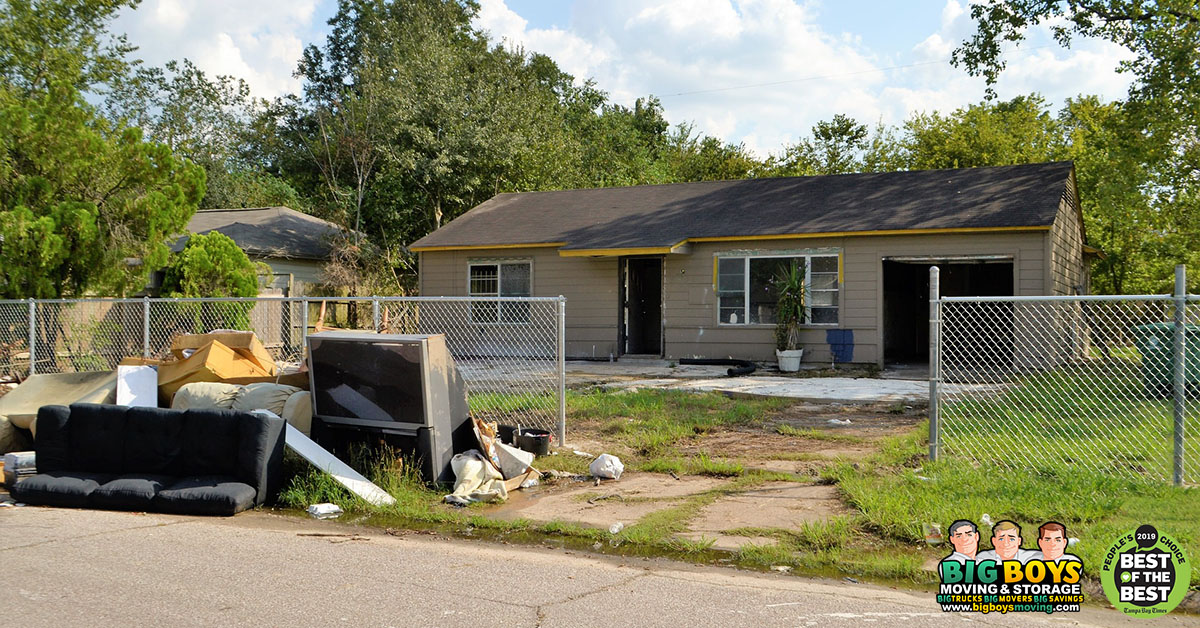 Tampa junk removal is a service that has a number of great benefits, but it's a service that many people don't even know is available to them. That's why today we want to tell you a little bit about our junk removal service here at Big Boys Moving and Storage and how you can put that service to work for you.
Tampa Junk Removal: How a Junk Removal Company Can Help You
As the #1 provider of junk removal services in Tampa, we know that there are a number of ways that you can put junk removal services to work for you. Today we want to share a few of those benefits with you…
Moving Cleanout
When it comes time for moving, you may find that once you've moved all of the things that matter, you're left with junk that needs to be disposed of. Whether it's an old refrigerator that needs trashing or just a pile of random items that you don't want to have to take to your new home, we can help. Our team will come in and remove that junk for you so that your home will be ready for the next family to move in to or your real estate agent to begin showing.
Move-In Cleanout
On the opposite end of the spectrum, you may find that a particular property that you are interested in comes cheap but it also comes with junk that needs cleaning out before you can move in. In this instance, you can call on our junk removal specialists and we will get rid of that junk for you so that you can get to work cleaning (or call in the professional cleaners) and get your new place ready to move into! Plus, it means that you don't have to get your hands dirty!
Estate Cleanout
Losing a loved one is difficult enough as is, but when you have to clean out their estate, it's stress that you really don't need. You need to be taking time to grieve and to make other arrangements rather than be cleaning out junk from the backyard or garage. Certainly, the items that belonged to your loved one are full of valuable memories and you should take the time to go through those when you feel up to it, but just about everyone has an area of their home, garage, or garden where they keep a pile of junk. Items that we just don't have time to take to the dump, items we're not sure if we will need again, items that mean nothing, but still occupy a place on our property. This is where our junk removal services can help. We can come in and take care of junk in designated areas when you are undertaking an estate cleanout so that you don't have to do the job yourself. Our professionally trained staff will always be respectful of your property and your situation while helping you during your time of need.
Rental Cleanout
If you've ever rented your property to the wrong people then you know that things can get pretty messy. If you find yourself in this situation where you have rented your property to the wrong people and have finally got them out, you are very likely to find a mess inside your home. Hopefully, this mess isn't too bad, but if you do find that you need a major cleanout, our team of professionals can help you to clean out all of the junk and reclaim your home. We have experience cleaning out plenty of rental units that have been left in disrepair and we'd be happy to help you with your cleanout project as well.
Abandoned Property Cleanout
Once in a while, you may find that you are left in control of a property that has been abandoned. This property may be a home, a garage, a storage unit, a warehouse, a business office…whatever it is, when a property is abandoned it is rarely fully and properly cleaned out. This leaves you having to clean out the junk that's left behind. Whether it's furniture, appliances, trash, or just general junk, our team can help you with cleanup and removal.
Disaster Cleanup
There are unfortunate times when we are faced with disaster. Whether that disaster is a fire, a hurricane, a flood, a tornado, or an earthquake, you are left with a home that needs some serious cleanup. There are services out there who can help you to clean the damage done to the structure of your home during a disaster and these people are a must! But you will also need the help of a team like ours to get rid of the junk that's left behind before you can take care of the property itself. Moldy furniture, damp carpet, broken items…we can take them all so that you can get to work on rebuilding your property and your life.
Are You in Need of Tampa Junk Removal Services?
If you're in need of Tampa junk removal services and are looking for a reputable and experienced company to serve you, Big Boys Moving and Storage can help! Just give us a call today at 813-936-2699 to schedule your appointment so we can get started on lightening your load!