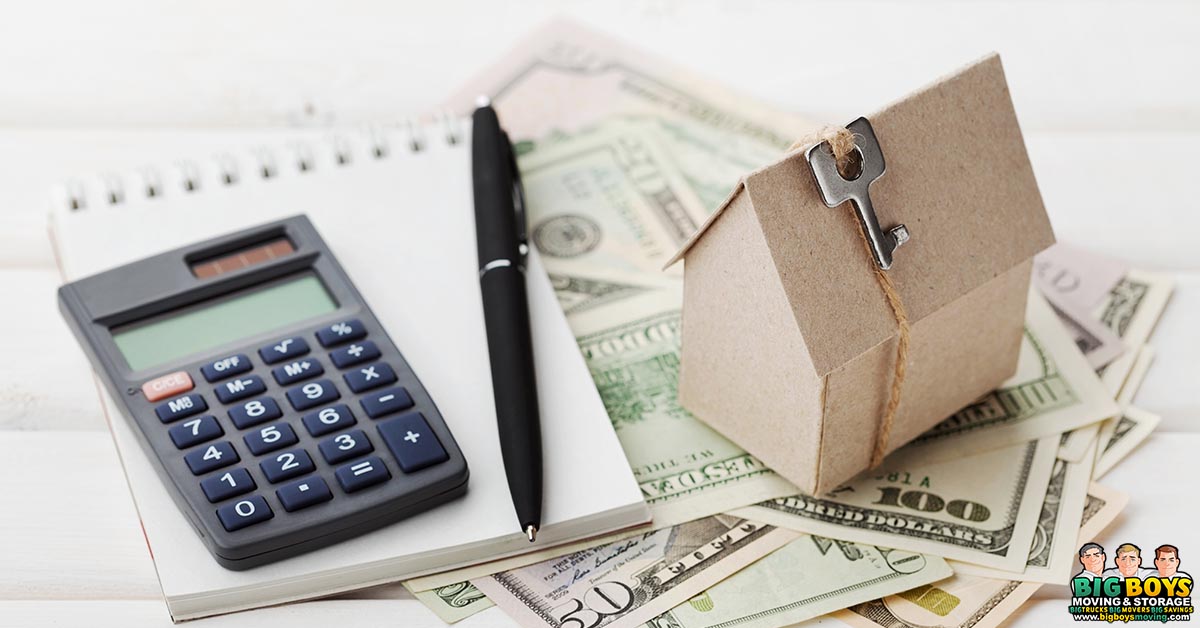 When you request your Tampa moving cost quote from a local moving company, you may wonder what goes into the quote that you receive. There are many different factors that go into the quote process and as Tampa's top moving company, we know more than a few of them! Let's take a look at some of them and hopefully help you to learn where you can cut expenses and make changes.
Tampa Moving Cost: What Goes into Your Moving Quote
The Size of Your Home
One of the most obvious factors that goes into your Tampa moving cost is the size of your home. This is generally measured by "rooms" and estimated square-footage. For example, when you fill in a quote form or speak with the moving company on the phone, they may give you some choices like: "Is this an apartment, townhome, family home, office, or another type of move?" They will then follow up and ask "How many bedrooms/offices/bathrooms", and finally "Do you have an attic and basement or outdoor storage that needs moving too?"
This information lets the moving company get a better idea of what size of a move they are looking at and how many trucks and moving staff they will need to get the job done and how long the job should take. Obviously, the larger your home and the more resources you need to get the job done, the higher your quote will be.
Large or Specialty Items You Need Moving
If you have large or specialty items that you need to be moved, this will also be factored into the moving quote that you receive. For example, if you are moving a three bedroom house but you also have a piano in your dining room along with your dining room furniture, this is going to increase your quote.
The reason for this is simply because larger items often require special equipment or preparation to move.
This is also the case for corporate or small business moves where specialty large commercial equipment (for example, large ovens for a restaurant or bakery) needs to be moved.
The Day You Need to Move
Did you know that the day of the week that you want to move can influence the cost of your move? For most moving companies, Tuesday and Wednesdays are their cheapest days to move, this is because historically, gas prices are cheaper on those days and fewer people want to move during the middle of the week.
The Time of Day You Need to Move
Even the time of day can influence the cost of your move! A lot of moving companies will decrease their rates for moving times earlier in the day. This is often because, during warmer months, morning moves are much more comfortable for moving staff because those midday temperatures have not yet hit. Earlier moving times are also easier because there is less traffic to deal with between the morning work rush and the lunch hour traffic versus lunchtime to evening times when more people are out and about on the roads going about their everyday routine.
The Time of Month You Need to Move
The time of the month is also influential on the cost of your move. The beginning and the end of the month are always the busiest times for moving companies so you will find that rates during those times are higher. This is usually because new leases begin and end during this time. If you want to save a little on your move, try and schedule it for the middle of the month instead.
The Time of Year You Need to Move
The peak moving season tends to begin around the end of May, but the earlier Spring months are usually a much cheaper time of year to move. During this time the weather isn't as poor as it is in winter and summer months and moving schedules aren't as busy as they are in fall months when schools are back in session and holidays tend to take up weekends resulting in fewer movers being able to work during that time.
The Licensure, Bonding, and Insurance Status of the Moving Company
We have talked before about the importance of hiring a moving company that is licensed, bonded, and insured. Moving companies that offer moving rates that are too good to be true are often companies that are not licensed, bonded or insured. These "companies" are simply individuals who have chosen to earn extra cash by creating their own moving services. This is particularly troublesome because companies that aren't licensed are not legally permitted to do business and companies that are not bonded or insured do not protect you against damage, loss, or theft of your items and this means bad news for you!
Even if it means spending a little more for your move, hire a moving company that is licensed, bonded, and insured because it will save you money, time, and inconvenience in the long run.
The Caliber of the Moving Company
Like most things we purchase or invest in, the caliber of the company or product determines the price point. Don't get us wrong, there are great moving companies who offer affordable moving services, but we're talking about those cheap unlicensed movers we mentioned above versus a reputable moving company here. Expect to pay higher rates for a moving company that is experienced, has the proper equipment, and who are licensed, bonded, and insured.
Wondering About Your Tamps Moving Cost?
If you are planning a move and wondering about your Tampa moving cost, give us a call today at Big Boys Moving and Storage at 813-936-2699 and arrange for us to give you a walk-through quote designed specifically for your moving needs!