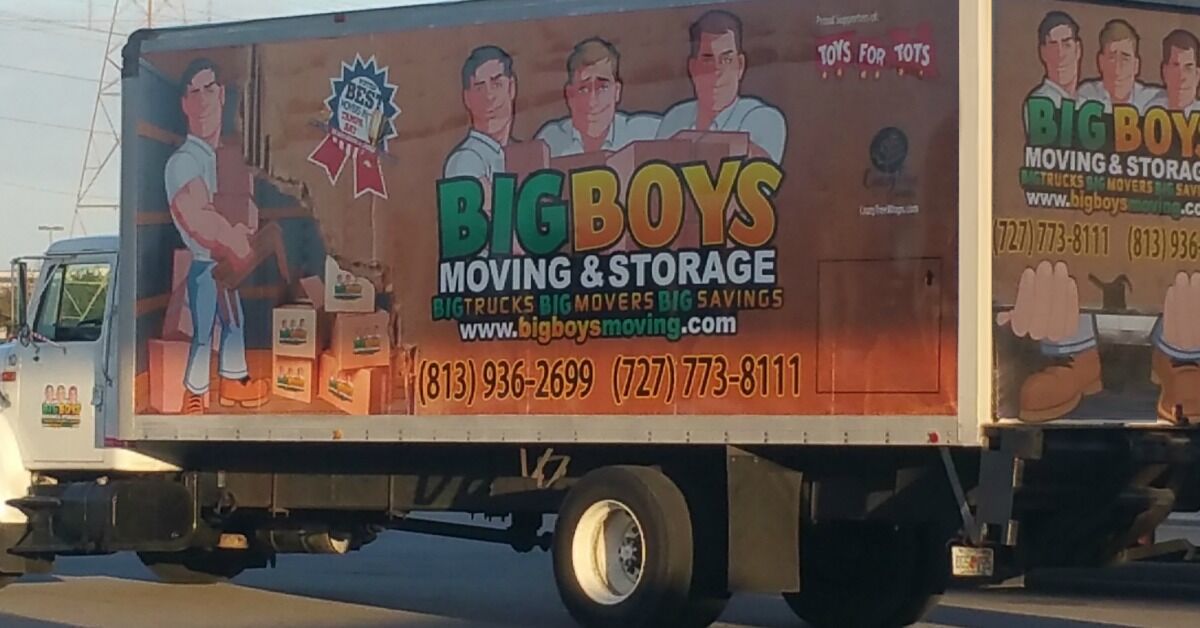 If you're looking for a Tampa moving guide, then who better to go to than the top moving company in Tampa? Here at Big Boys Moving and Storage, we have been voted as Tampa's best moving company for over a decade and we have some great tips to help you to get your Tampa move under control.
Tampa Moving Guide From The Top Tampa Moving Company
Every move that you undertake in your life is going to be different. Each one is influenced by your current time of life, your budget, your destination, your experiences, the weather, the moving company that you hire…the list goes on. But as the Tampa moving company that has been voted top for over a decade, we've gained some valuable insight into Tampa moving and today we're going to share some of that insight with you.
Time Your Move Correctly
Every moving guide will tell you to be flexible with your moving dates and to time your move so that you pay the lowest price possible. While it's always great to save money on your move, when you are moving to or even from Tampa, there are a few more things to consider as well.
Firstly, you need to give thought to the weather. One of the biggest reasons that people choose to move to Tampa is the wonderful warm weather that we are blessed with! Well, you may love that sunshine when you're lounging beside the pool, but believe us when we tell you that you won't love anything about it if you choose to move when that sun is at its peak. To safeguard your health and the health of your team of movers, pay attention to the weather patterns in Tampa and try to schedule your move for fall, winter, or spring when temperatures are a little cooler. Your movers will thank you too!
The Time of Year is Important For Other Reasons Too
In addition to being important to your move because of the weather and the temperature outside, the time of year is also important because Tampa tends to have a tourist rush at certain times of the year. Although we are certainly not as overrun as Orlando, Tampa does have a rush of tourists taking the time during their summer vacation to come down and enjoy the sun. Now we LOVE anyone who wants to visit our incredible city, but the added cars on the road mean more congestion which will impact your move. Not only could you end up waiting while your moving truck is stopped in traffic, but you will also find that if you get stuck in traffic, your level of frustration will only rise. This leads to very short tempers and it can make for a moving day disaster!
Plan Your Route
When moving you into your new home, your movers know the way and they are familiar with traffic. In fact, we recommend that our clients follow the same route that we take when we move you into your new home because it will save you some time! That said, if you are driving into town for your move, it's equally as important to plan your route then too.
Know that we do have toll roads in Florida, this means that you should invest in a "Sunpass" (a pre-paid toll tag that fixes to your car window and scans automatically when you go through a toll booth) or keep a bag of change in the car to pay tolls at automated toll booths.
Know that just like any other city, we also have frequent roadworks. Be sure to check local traffic conditions and road conditions and closings for your moving day before you get on the road. This will help you to avoid unexpected delays that can affect your movers' schedule too!
Lastly, make a note of any big tourist areas on your route and plan your trip to avoid those areas as much as possible. This will also help to keep your delays to a minimum.
Make Your Move As Unstressful as Possible!
There is one thing that everyone will tell you about moving and that is that it's a very stressful experience. Here at Big Boys Moving and Storage, we do everything that we can to take some of that stress off your shoulders, but there are things that you can do to make your move less stressful too!
Firstly, get a good night of sleep the night before your move. This will help to prevent snapping and crabbiness due to being overly tired. If you need to, book into a hotel for the night before your move so that you aren't faced with an empty house full of boxes that remind you of your stress!
Secondly, do everything that you can to destress during the week of your move. If you do yoga, make sure that you go to class. If you relax by reading, make sure that you get a good book in. If you like to hike, go on a hike. You get the idea. Whatever you can do to create a more relaxed you for the day of your move, the better it will be for everyone. Be sure to encourage your family members to do the same if they will be moving with you, the less tension present on moving day, the better!
Read the Tampa Moving Guide And Ready to Hire Tampa Movers?
If you've read the Tampa moving guide and now you're ready to hire professional and experienced Tampa movers to help you to get the job done, just give us a call! Dial 813-936-2699 to schedule your move with our team today!