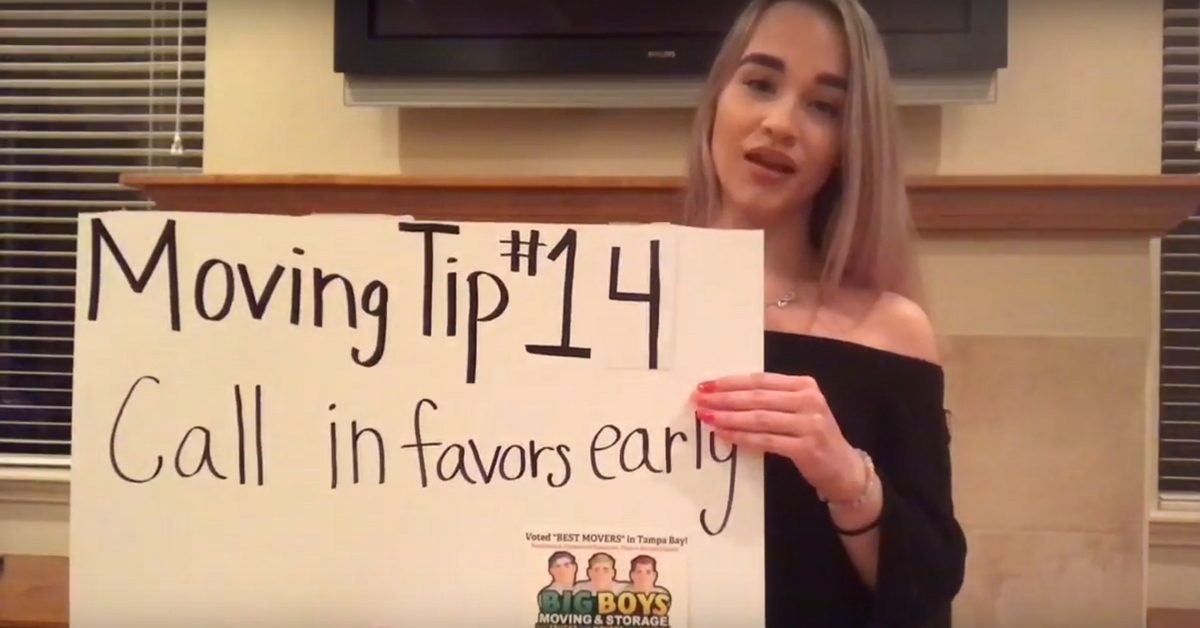 Good morning out there Tampa and future Tampa residents! We're back once again with another Tampa video moving tip from Big Boys Moving and Storage. Today's tip is just one in a whole series of videos to help your upcoming move to go to plan! Here is the fourteenth installment of our "Moving Tip of the Day" video segments!
Moving Tip of the Day #14
Moving Tip of the Day Transcription
Sarah: "Good morning future movers, it's Sarah for BigBoysMoving.com with the Moving Tip of the Day. Here we have number fourteen which is "Call in favors early." That's the Big Boys Moving Tip of the Day (MTOTD). Have an amazing day! I'll be back tomorrow with another moving tip. Visit BigBoysMoving.com for more information."
When your move is on the horizon it's important to preplan by calling in any favors you'll be cashing in on early! It doesn't matter what favors you are calling in – someone to dogsit for you on moving day, someone to pick up the kids from school, someone to help you pack before the move – whatever it is, it's important to make those requests ahead of time. Calling in last minute favors isn't just annoying for your friends and family, but those last minute calls are much less likely to turn out in your favor. Give your friends plenty of time to book your moving day in their schedule and make sure to ask politely for whatever it is you're hoping for! It doesn't hurt to throw in dinner as well!
About Big Boys Moving & Storage
For nine years, Big Boys Moving and Storage have been named the top moving company in Tampa and that's no accident! We do everything we can to make sure that our clients have a smooth and affordable moving experience no matter who they are or what size their move is. Our reputation depends on your satisfaction and we're determined to ensure that you're satisfied with every aspect of your move!
Want More Moving Tips?
Interested in checking out more of our video moving tips? Take a look around our site and you'll find quite a few great tips! Or you can just connect with us on Google or Facebook, and take a look at some of our other great moving tips! Ready to just get that move started? Give us a call! And ask about our moving specials so that you can save more money on top of our affordable rates! Just dial 727-773-8111 or 813-936-2699 today!