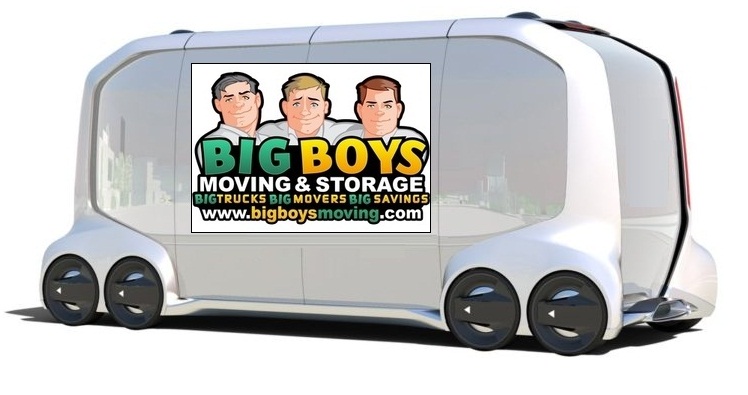 Ever wish you could have moving supplies delivered right to your door? Well, Big Boys Moving and Storage have plans to be the first moving company to do this with self-driving vehicles!

Moving Supplies Delivered to Your Door By a Self-Driving Vehicle?
In early January, Toyota announced their plans to create a fleet of self-driving vans that will deliver packages. The vehicles – named e-Palettes – will be fully automated, see-through vans that are battery electric, scalable, and customizable. Here at Big Boys, we couldn't be more excited about the announcement because it gives us the opportunity to make your upcoming move even easier!
Not only can you get your moving supplies dropped right at your door, but if you find yourself running short of a particular type of moving box, you just have to put in your order and the van will drop off more!
Toyota hasn't announced a build date for these unique vehicles yet, but they have announced plans to team up with big businesses like Amazon to show just how serious they are about this new venture.
Here at Big Boys Moving, we may not be an Amazon-sized company, but we recognize the importance of making your life easier! That's why we plan to be first in line to snatch up one of the e-Palette vehicles as soon as they are released.
As Toyota's first venture into the self-driven automated vehicle market, we can't wait to see this vision brought to life with the backing of such a quality and respected company!
Need Your Moving Supplies Today?
While we await the release and availability of the e-Palette vehicle we invite you to come down and talk to us about your upcoming move! Not only can we help you to plan your Tampa Bay area move, but we can also help you to determine just how many and what type of boxes you need for your move! We have a full range of moving boxes on hand so you don't have to worry about our inventory and we have more moving box sizes and types than all of our competitors put together! Why? Well, it's simple – the better your packing is, the smoother your move goes and that makes our job easier too!
If you are moving in the Tampa Bay area and need moving boxes to get on with your move, just give us a call today. You can reach us at 813-936-2699.