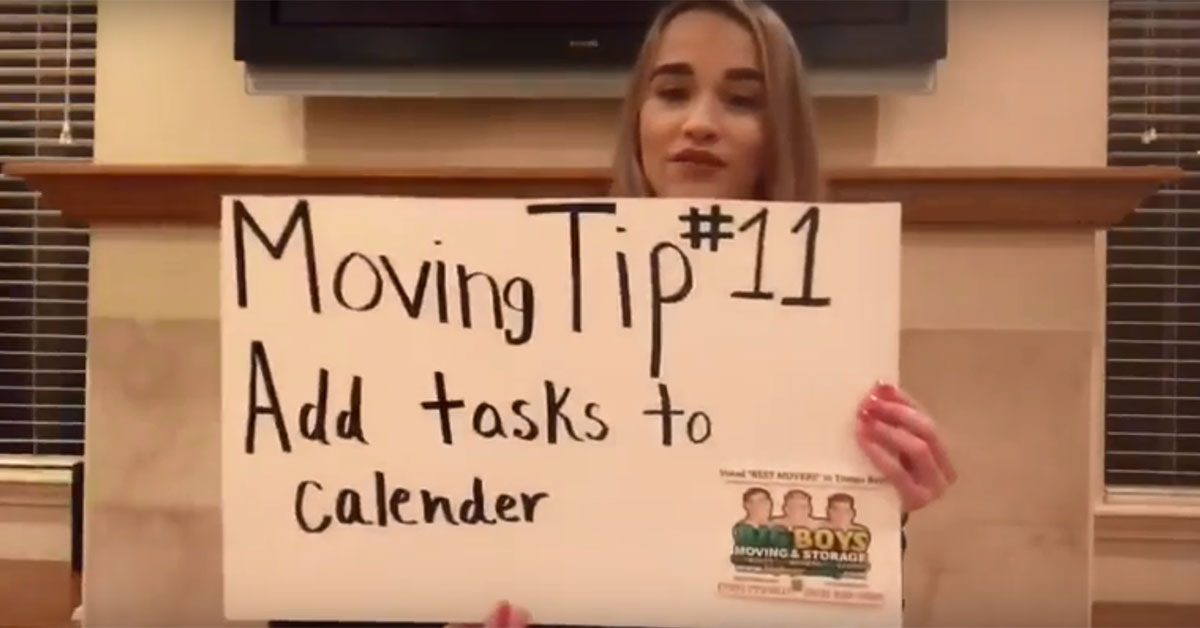 Good morning Tampa and future Tampa residents! Today we've got another amazing Tampa video moving tip from Big Boys Moving and Storage ready for you! So, let's get on with it! Here is the eleventh installment of our, "Moving Tip of the Day" video segments!
Moving Tip of the Day #11
Moving Tip of the Day Transcription
Sarah: "Good morning future movers, it's Sarah for BigBoysMoving.com with the Moving Tip of the Day. Here we have number eleven which is "Add tasks to calendar" That's the Big Boys Moving Tip of the Day (MTOTD). Have an amazing day! I'll be back tomorrow with another moving tip. Visit BigBoysMoving.com for more information."
Today's moving tip (you'll have to forgive the typo!) is a tip that can be applied to many areas of your life, but is particularly useful when it comes to moving! With so many things to complete before, on, and after moving day, you'll  want to ensure that everything gets done on time and in the order you need it doing. To help make this possible, set up a calendar with each task that needs doing marked on the day that it needs to be done. For example, you want to arrange to connect utilities in your new home before you move in so that your new home has power and water before move in day!
About Big Boys Moving & Storage
Big Boys Moving and Storage have been voted by Kudzu customers as the best  moving company in Tampa for nine years straight, Big Boys Moving and Storage provide affordable yet quality moving services that are often further discounted with great move in specials and coupons!
Want More Moving Tips?
If you are looking for more tips to make your move go as smoothly as possible, connect with us on Google or Facebook, and check out more of our professional moving tips! Ready to get your move started now? Give us a call! And don't forget to ask about our moving specials so that you can save even more money on top of our affordable rates! Just dial 727-773-8111 or 813-936-2699 today!