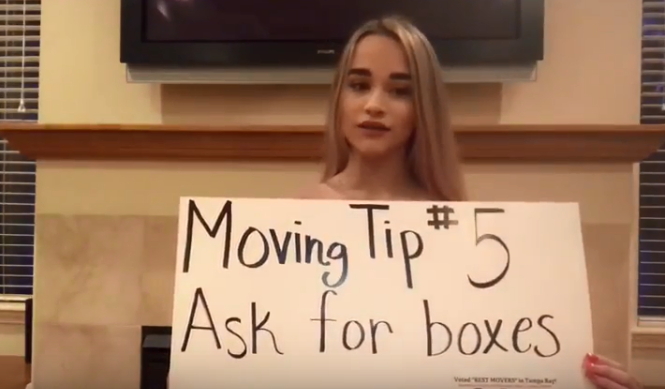 Good Monday morning Tampa and future Tampa residents! Welcome to the blog of the Movers Tampa trusts most, Big Boys Moving and Storage! We're back once more with Sarah for the fifth installment of our, "Moving Tip of the Day" segment in video format. All of our moving tips of the day are about 15 seconds long and get right to the point because we know that you're tied up getting ready for your move!
Moving Tip of the Day #5
Moving Tip of the Day Transcription
Sarah:
"Good morning future movers, it's Sarah with BigBoysMoving.com with the Moving Tip of the Day. Here we have number five which is "ask for moving boxes." That's the Big Boys Moving Tip of the Day (MTOTD). Have an amazing day! I'll be back tomorrow with another moving tip. Visit BigBoysMoving.com for more information."
Today's moving tip is a great tip to help you to save big on your upcoming move! Or, if you're a bargain shopper you might know that you can get free boxes at the grocery store…but they're not always sturdy or large enough for your needs, so why not get moving boxes for free?!
About Big Boys Moving & Storage
Big Boys Moving and Storage are the most trusted Tampa Bay moving company and have been voted Tampa's best moving company by Kudzu customers for nine years in a row!
Want More Moving Tips?
If you are getting ready for your Tampa Bay move, consider connecting with us on Google or Facebook, where we have plenty more moving tips for you!
If you'd like help with your Tampa moving company needs now, give us a call! Don't forget to ask about our current special offers and save even more money on top of our affordable rates! Just dial 727-773-8111 or 813-936-2699 today and tell us how we can help to make your move a smooth and pleasant one!